SB281 Lawsuits and Membership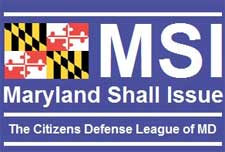 Maryland ––(Ammoland.com)- Today brings upon us the dawn of SB 281, a new era of 2nd amendment infringements and the further stripping of our civil rights.
We have had a rough year so far due to the fight we put up with the bill's legislation, the "Gun-rush" of 2013, the 77r debacle, and finally the COMAR regulations being pushed through during an emergency hearing on Sept. 23 2013.
However, we still stand strong. Oct. 1 will bring changes to how we acquire firearms and what firearms are available to us.
We have numerous battles in front of us, most of which will be taking place in a courtroom. Many have asked "When are we going to take them to court?", that answer is NOW!
There have been two lawsuits filed thus far, these lawsuits address the following:
Sept. 27 Lawsuit "HQL Requirement"
Maryland Shall Issue, Inc., Associated Gun Clubs of Baltimore, Inc., Maryland Licensed Firearms Dealers Association, Maryland State Rifle and Pistol Association, National Shooting Sports Foundation, several firearms dealers and individual Maryland citizens, have filed suit Friday to stay the October 1st implementation of Maryland's Handgun Qualification License ("HQL") requirements for all Marylanders seeking to purchase a handgun on or after October 1, 2013.
The lawsuit was filed on Friday, September 20th 2013 in the United States District Court for the District of Maryland and requests injunctive relief and a Temporary Restraining order. Plaintiffs claim the October 1 HQL requirement results in a de facto ban on the purchase of handguns, as there currently exists no procedure for acquiring a HQL. The MSP's inability to administer the process and the subsequent inability of Marylanders to purchase or take possession of a handgun for purposes of self defense, is a violation of the Second Amendment and harms law-abiding, responsible residents of Maryland.
The Maryland Firearm Safety Act of 2013, alternatively known as SB 281, will impose upon all handgun purchasers a pre-purchase burden of fingerprinting, a background check and a $50 application fee. Handgun purchasers who are not active or retired military, are not active or retired police officers or do not already own a regulated firearm, will face the additional requirement of four hours of classroom training which includes a "live fire" component.
Given the current backlog of 77R applications (50,000), the combination of the required training, fingerprinting, HQL application and subsequent 77R, the process will likely result in a delay of your rights extending for an indeterminate amount of time. While FFL's may release a firearm after 8 days if the MSP has not concluded its background check, there is no such provision for the HQL process. The law allows the MSP 30 days to approve or disapprove the application, but if that deadline is not met, there is no recourse within the law. If the MSP fails to meet the 30 day requirement, the FFL is still bound by state law and will not be able to release the handgun until the purchaser obtains their HQL (even if it has been more than 30 days). After finally obtaining their HQL, the purchaser will have to submit form 77R and wait an additional 8 days or more before finally being allowed to exercise the fundamental civil right of armed self defense.
SB 281 was passed months ago, yet the State has failed to make the HQL process available to the public. According to the Maryland State Police (MSP), the HQL application will not be available until October 1.
The NRA has provided invaluable assistance and guidance in the fight against these assaults on the 2nd Amendment rights of all Marylanders. Our Maryland NRA representative Shannon Alford has been an integral part of this fight and has been a strong presence throughout.
Sept. 26 Lawsuit "Banned Firearms/Magazines"
Maryland Shall Issue, Inc., Associated Gun Clubs of Baltimore, Inc., Maryland Licensed Firearms Dealers Association, Maryland State Rifle and Pistol Association, National Shooting Sports Foundation, several firearms dealers and individual Maryland citizens, have filed suit to stop the implementation of Maryland's new gun law which is set to take effect Tuesday. The law will ban certain common and popular semiautomatic long guns and restrict the purchase or sale of magazines with a capacity in excess of ten rounds.
The lawsuit asks for an immediate injunction on the grounds the law is an unconstitutional violation of the 2nd amendment rights of law abiding Maryland residents and impairs their civil right to self defense.
HQL Clarification for Handguns post October 1st
The Maryland State Police issued a press release on Sept. 24  stating that an HQL would not be needed to take possession of a handgun after October 1st. This press release from MSP goes against what the Attorney General's office stated in their August 1st letter. Because the MSP and the Attorney General's office have produced contradictory statements, transactions involving handguns purchased prior to October 1 but received on October 1 or later, should be handled with extreme caution by firearm sellers and purchasers.
MSI would like to thank those who have supported this lawsuit financially and logistically as well as those who have stood up and are active participants in the litigation process. These continuing actions do not come without costs. Please consider making a donation to MSI so that we may continue the fight. MSI is only as strong as its members and none of this happens without you.
MSI will keep you updated as the lawsuits continue.
MSI Membership Renewals
MSI's traditional membership year begins in October 1st. We are pleased to offer our new membership manager site at https://www.marylandshallissue.com/members. The new software allows users to manage their membership level, personal information and even select recurring billing options for convenience. Our new system no longer relies on Paypal and is protected by industry standard SSL security.
MSI decided, after much debate, not to import the existing membership information due to our desire to have accurate information for upcoming projects such as membership id cards. All members will need to establish an account on the system and complete the form to join. Current members will need to apply as "new" members; however, we will be comparing records for executive members to avoid re-vetting.
We apologize for this; however, we believe the new software with it's advantages will make this worthwhile to everyone.
We are also pleased to offer the "Sustaining" member option for those who wish to contribute a little more financially, but for various reasons are not able to participate at the executive member level.
Maryland Shall Issue, Inc.
1332 Cape Saint Claire Road #342
Annapolis, Maryland 21409
240-446-6782
Mission Statement: Maryland Shall Issue is an all volunteer, non-partisan effort dedicated to the preservation and advancement of all gunowners' rights in Maryland, with a primary goal of CCW reform to allow all law-abiding citizens the right to carry a concealed weapon; and to the education of the community to the awareness that 'shall issue' laws have, in all cases, resulted in decreased rates of violent crime.