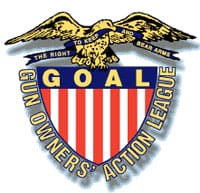 Northboro, MA – -(Ammoland.com)-   Goal Executive Director Jim Wallace testifies (above) before the committee while John Hohenwarter of the NRA looks on. GOAL Corporate Attorney Ed George is seated to Jim's left.
Like the previous 4 hearings we heard many people testifying from both sides of the issue, those that oppose our Second Amendment freedom continued to speak from the same talking points provided by the Mayors Against Illegal Guns.
GOAL members and those that support freedom provided great testimony using facts, statistics and logic to paint a picture of the many flaws in the current law, and the need to reform them.
Only time will tell what happens going forward. We have seen a majority of states across the nation pass laws which deregulate firearms ownership and support our RKBA. We can only hope that our legislature will take note of this. As always GOAL will be working with our legislators to represent the law abiding gun owners of Massachusetts and will inform our membership should the need to take action arise.
Read the full report on www.goal.org
About:
Gun Owners' Action League is the official state firearms association in Massachusetts. We are an association of law-abiding citizens who believe in the basic right of firearms ownership for competition, recreation and self-protection. GOAL works hard to defend the Constitution and the Bill of Rights against those in Massachusetts who wish to infringe upon the freedoms guaranteed by our forefathers. The programs sponsored and developed by Gun Owners' Action League are supported by competitors, sportsmen, recreational shooters and law enforcement throughout the state. We were formed in 1974 to protect the right to keep and bear arms for lawful purposes in the Commonwealth of Massachusetts. We are recognized as the state's premier gun rights association. www.goal.org