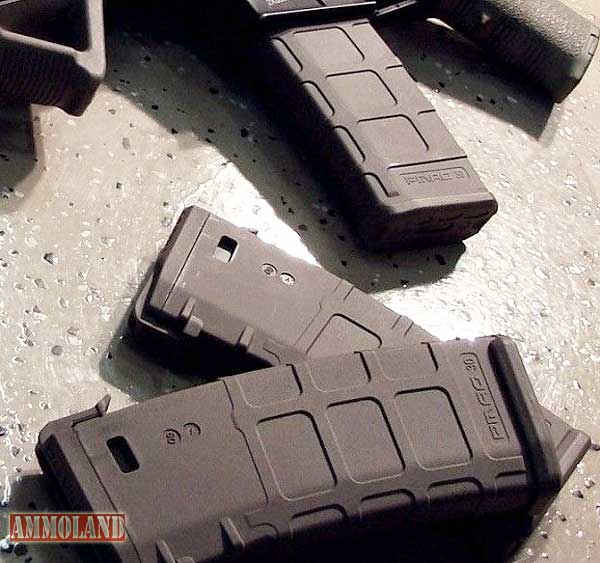 Charlotte, NC –-(Ammoland.com)-  This week, the San Francisco Veteran Police Officers Association (SFPOA) has filed a lawsuit, supported by the National Rifle Association, in federal court challenging San Francisco's recent ban on the possession of magazines capable of holding more than ten rounds.
The Second Amendment-based legal challenge is part of a campaign of nationwide litigation filed and supported by a variety of law enforcement officers and associations to confirm that the Second Amendment protects these common standard-capacity magazines for self-defense and sport shooting.
Today, standard-capacity magazines capable of holding more than ten rounds are commonly possessed by millions of law-abiding citizens for a variety of lawful purposes in the United States.  These purposes include target practice, shooting competitions, hunting, and, most importantly, self-defense.  The Supreme Court has affirmed that self-defense is the "central component" of the Second Amendment.
The San Francisco Veteran Police Officers Association represents the retired officers from the San Francisco Police Department.  SFPOA is joined in this lawsuit by several individual San Francisco residents who wish to possess these magazines for self-defense or sporting purposes.
The majority of law enforcement in the United States acknowledges that banning standard-capacity magazines capable of holding more than ten rounds will not increase public safety.  
There is now a growing trend of law enforcement organizations actively opposing and challenging these measures in court.  In Colorado, a broad coalition of law enforcement officials filed suit against that state's recently-enacted ban on common magazines.  Earlier this year in New York, the State Sheriffs Association, the Law Enforcement Legal Defense Fund and individual law enforcement officers filed an amicus brief in support of a challenge to the State's ban on common rifles and magazines.  And in Connecticut, a coalition of individual law enforcement officers and the Law Enforcement Legal Defense Fund filed another legal brief in support of pending challenge to similar laws.
The San Francisco ordinance essentially allows confiscation of any prohibited magazines and, because of state laws restricting their transfer, they cannot be replaced.  San Francisco's ordinance is set to take effect on December 8, 2013.  Residents, including retired police officers, will then have until March 8, 2014 to turn their lawfully-possessed magazines over to the police, remove them from the City in the few cases where it might be legal, or transfer them to a licensed firearms dealer.
The lawyers at Michel & Associates representing the plaintiffs will seek an injunction to prevent San Francisco from enforcing this law.  Plaintiffs are prepared to appeal this case as high as necessary to have the City's misguided ordinance declared unconstitutional.  This Second Amendment issue may ultimately be addressed by the United States Supreme Court.
Firearms equipped with magazines capable of holding more than ten rounds have been around for nearly two centuries.  Although the San Francisco ordinance incorrectly describes the banned magazines as "large-capacity," the truth is that magazines with capacities of more than ten rounds are standard for many common handguns and long guns and have been for hundreds of years.   Millions of firearms that have been sold in the United States come from the manufacturer with magazines capable of holding more than ten rounds.
As most gun owners already know, standard-capacity magazines hold the number of cartridges the firearm was designed to operate with.  Reduced-capacity magazines are those whose capacity is artificially limited from an original design.  By allowing residents and visitors to San Francisco to only possess reduced-capacity magazines, San Francisco has arbitrarily limited the number of rounds that its law-abiding residents have to protect themselves and their loved ones.  Hunters and sport shooters traveling through San Francisco with these magazines also can be prosecuted, even if they are unaware of this law.
The City's decision to arbitrarily limit its residents to magazines holding a maximum of ten rounds endangers the public by giving violent criminals an advantage and decreasing the likelihood that a victim will survive a criminal attack.  Of course, criminals who wish to carry out violent attacks will not be thwarted by the City's restriction.  Criminals will simply continue to do what they have always done – buy and possess magazines on the black market or carry multiple firearms to complete their violent crimes.
A ballot measure enacting a similar ordinance was recently passed in Sunnyvale, California.  Litigation supported by the NRA is already in the works to challenge that law when the Sunnyvale City Council certifies the vote and the measure then formally becomes law.
To assist in the fight against these attacks on gun owners' rights in California, please donate to the NRA Legal Action Project today.  For a summary of the many actions the NRA's legal team at Michel & Associates has taken on behalf of California gun owners, click here.
Second Amendment supporters should also be careful about supporting litigation efforts promised by other individuals and groups without access to the necessary funding, relationships, firearm experts and experienced lawyers on the NRA's national legal team.  The NRA's team of highly regarded civil rights attorneys and scholars has the resources, skill and expertise to maximize the potential for victory.
About:
Established in 1975, the Institute for Legislative Action (ILA) is the "lobbying" arm of the National Rifle Association of America. ILA is responsible for preserving the right of all law-abiding individuals in the legislative, political, and legal arenas, to purchase, possess and use firearms for legitimate purposes as guaranteed by the Second Amendment to the U.S. Constitution. Visit: www.nra.org