By Tom Precious | News Albany Bureau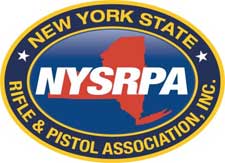 New York –-(Ammoland.com)- The New York state affiliate of the National Rifle Association has asked a federal judge in Buffalo to schedule a hearing to outline its case in public against New York's SAFE Act gun control law.
The New York State Rifle and Pistol Association petitioned U.S. District Court Judge William M. Skretny, who is considering the group's lawsuit against the state over the gun and ammunition crackdown, because it believes oral arguments are justified in the case.
"We think our [written] briefings are extremely well done, and we could prevail on those, but when you are able to stand in front of someone and verbalize the case it becomes abundantly clear how ridiculous some of these things are," Tom King, president of the gun rights group, said Tuesday.
The organization is seeking to undo the SAFE Act, a law promoted by Gov. Andrew M. Cuomo and rushed into statute last January following the slayings at the Sandy Hook elementary school in Connecticut. Among other challenges, the NRA affiliate says the law violates the federal constitution's Second Amendment by limiting the types of guns people can have for lawful purposes, such as protecting themselves in their homes.
Advocates of the law say the law's broadening of the definition of what constitutes an illegal assault weapon, as well as a new tracking system for ammunition purchases that will not be in place as planned in mid-January, are needed to target gun violence. The law also requires mental health professionals to report to authorities the names of clients they believe could be a threat.
About:
The New York State Rifle & Pistol Association is the state's largest and oldest firearms advocacy organization. Since 1871, our organization has been dedicated to the preservation of Second Amendment rights, firearm safety, education and training, and the shooting sports. Our membership consists of individuals and clubs throughout the state. We are a not-for-profit 501(c)4 organization and the official NRA-affiliated State Association in New York. Visit: www.nysrpa.org