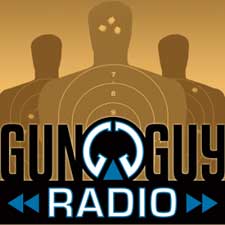 DeKalb, Illinois – -(Ammoland.com)- When considering the defense of your home there are several questions that you must answer in order to fully determine your strategic plan.
One of the most important questions you must ask is how many guns do you need to fully protect yourself and your family. If you need more than one pistol and you are like Gun Guy Radio host Jake Challand, you have a budget that you will need to stay within.
This week on GGR Jake discusses some of the options that would fulfill the need for a solidly reliable home defense handgun for a price under $300.00.
There are a variety of handgun styles and calibers that can satisfy this need from several manufacturers. A Heritage Rough Rider single action revolver in .22 WMR might be the best option for you and your family. On the other hand you might prefer the full sized Ruger P95. in 9mm Jake selected the SCCY Industries CPX2 for his home defense gun and he walks us through the advantages and disadvantages of his new acquisition.
Now he just has to decide what kind safe to put it in. Biometric or keypad or traditional dial combination lock? What size? All of these are just the beginning of the questions you need to ask when formulating your home defense plan.
For the Product Spotlight this week, Jake and Paul Levy are live at SHOT Show. Brownell's is working to make sure that everyone has access to quality AR-15 magazines, even if they are restricted by the laws of their home state. Brownell's is now taking pre-orders for 5 and 10 round AR-15 magazines. These magazines have all the same high quality characteristics of the higher capacity AR-15 for any hunting or shooting application.
Two great shows have joined the Firearms Radio Network. The Power Factor Show is hosted by Steve, Rick, John, Larry and Doug and they focus on entering or improving the practical pistol shooting sports. Practically Tactical has also joined the FRN. Practically Tactical is shown every Wednesday night on YouTube at 7 pm CST. Focusing on guns, gear and shooting, Practically Tactical has had some of the biggest internet firearms personalities as guests on its show. FRN is continuing to expand its presence within the firearms community and these two shows are exciting additions to the network.
Throughout this year The Firearms Radio Network is providing multiple ways for you to be a winner. First, five GGR listeners will take home a 280 lumen BVL light this month as part of the Brownell's Giveaway. Enter the monthly giveaway by subscribing to the GGR Newsletter at www.gunguyradio.com/winner. Second, one listener will win a Bond Arms Back Up in .45 ACP. Each gun or gear review submitted to the Firearms Insider before April 30, 2014, is a separate entry into this giveaway. There is no limit to the number of entries that any one person can submit. All reviews should be submitted at http://firearmsinsider.tv/submit/.
LA Police Gear is the newest sponsor of Gun Guy Radio. LAPG will be offering GGR listeners a special discount through the month of January. Enter gunguy in the promo code box at checkout to redeem your discount. The offer expires January 31, 2014
Listen to this episode at www.gunguyradio.com/104 or subscribe to the show on iTunes to listen to any of the ninety nine prior episodes.  Visit the Firearms Insider Community at www.firearmsinsider.tv.
About Gun Guy Radio:
Gun Guy Radio is an on demand talk show that stays positive and leaves out the politics. The podcast features a variety of popular guests that cover a wide range of topics that firearms enthusiasts crave. Each episode delivers entertainment, education and encouragement that expands firearm ownership and knowledge to the current and next generations. Gun Guy Radio is found on the Firearms Radio Network and releases every Sunday at 12:00 pm central time. Subscribe to the email list and listen via Apple iTunes, Stitcher Radio or www.gunguyradio.com.
Contact:
Jake Challand
President
Firearms Radio Network
Email: [email protected]
Web: firearmsradio.tv