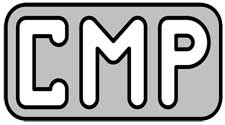 Weldon Spring, MO –-(Ammoland.com)- Custom Metal Products featuring new products at SHOT Show 2014 (Booth 1306)
Since the last SHOT Show, CMP has introduced several new shooting targets products including Military E-type targets, a Texas Star target and many others.
Military / Tactical Targets
Custom Metal Products is introducing their latest steel target product the E-Type Tactical Target.
The E-Type target shape has been used for many years in military marksmanship training.  The target is 40" tall x 19.5" wide and is available either as a static target or on an auto-reset base.  These targets are being used by the US Army, USMC, USAF and US Navy.  Now you too can own these military grade steel targets.
All of the shooting targets are made from 3/8" thick AR500 hardened steel for long life and excellent impact resistance.  As an option ½" thick AR500 steel is also available.
About Custom Metal Products
Custom Metal Products is a full line manufacturer of AR500 hardened steel shooting targets for competition, recreational, law enforcement and military use.  Our products include IDPA/IPSC, Dueling Trees, Gongs, Swingers, Hostage, Sniper, and Cowboy Action Targets.  See all of our product details, including videos on our online store at www.CustomMetalProd.com