New Stock Finishes Further Expand Line-Up.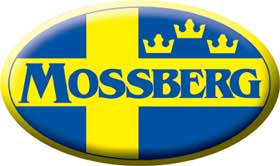 North Haven, CT –-(Ammoland.com)- O.F. Mossberg & Sons, Inc., continues to expand their AR-magazine compatible bolt-action rifle series with the addition of 7.62mm NATO (308 Win) and 300 AAC Blackout (300 BLK) offerings of the Mossberg MVP Patrol Rifle and the option of a textured tan stock in 5.56mm NATO and 7.62mm NATO.
Based on the classic Mossberg 4×4 bolt action, these highly-innovative carbine rifles feature patent-pending designs that accept and reliably-feed from both M1A/M14 and AR10-style magazines (7.62mm) and AR15-style magazines (5.56mm/300 BLK). Five new tactical offerings join this purpose-built series for 2014.
Innovation was at the core of the Mossberg MVP Series, when the first varmint-style rifle was introduced in 2011. Its patent-pending Drop-Push hinged-bolt design allowed the use of AR15-style magazines; a first for bolt-action rifles. Now a second, patent-pending bolt design allows the MVP rifles chambered in 7.62mm NATO (308 Win) to accept both M1A/M14 and AR10-style magazines.
Standard features on the new MVP Patrol rifles include a 16 ¼-inch medium bull, buttoned-rifled, threaded barrel with A2-style suppressor (a thread cap is included to allow removal of suppressor); Mossberg's Lightning Bolt Action (LBA) Trigger System that is user-adjustable from 2 to 7 pounds; coarse textured stock with stippling on the pistol grip in black or optional tan finish (5.56mm and 7.62mm); non-reflective, matte blue finish on exposed metalwork; optimal twist rates for bullet stabilization; factory-mounted Picatinny rail; front fiber optic and barrel-mounted adjustable rear rifle sights (5.56mm and 7.62mm); distinctive fluted bolt; front and rear sling swivel studs; and 10-round capacity magazine.
MVP Series Patrol Bolt-Action Rifle (Tan Textured) – Available in 5.56mm NATO/223 Rem with a 1:9 twist rate (27709) and in 7.62mm NATO/308Win with a 1:10 twist rate (27742). MSRP:  $726
MVP Series Patrol Bolt-Action Rifle (Black Textured) – Available in 300BLK with a 1:7 twist rate and non-sighted (clean) barrel profile (27718) and in two versions chambered in 7.62mm NATO/308 Win. The 7.62mm rifles have a 1:10 twist rate (27738) and is also available in a MVP Patrol Scoped Combo package (27739) featuring a factory-mounted, 3-9x32mm variable riflescope with illuminated reticle and convenient neoprene Comb-Raising Kit with foam inserts. MSRP: $726 – $863
Mossberg has combined breakthrough design with a ruggedly-built platform and purpose-driven features to set the standard high for this tactical series. To see the complete MVP Series of bolt-action rifles, visit your Mossberg dealer today.
About O.F. Mossberg & Sons, Inc.
Founded in 1919, O.F. Mossberg & Sons, Inc. is the oldest family-owned firearms manufacturer in America, and is the largest pump-action shotgun manufacturer in the world. Leading the way with over 100 design and utility patents to its credit, and standing as the first ISO 9001 Certified long-gun manufacturer, Mossberg is considered to be one of the most innovative firearms manufacturers in U.S. History. For more information on commercial, special purpose, law enforcement and military shotguns, rifles and accessories, please visit their website at www.mossberg.com.