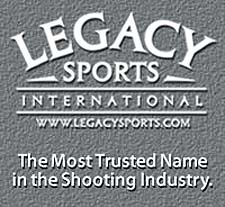 Reno, NV –-(Ammoland.com)- Gene Lumsden, CEO of Legacy Sports International, Inc. proudly announces the addition of the new, Puma Buntline revolver to Legacy Sports' line of Puma Model 1873.22 handguns.
The new Buntline model is a long barreled version of the Puma 1873.22 we've been selling for the past several years. Styled after the famous "Peacemaker" the Buntline features an 11.5" barrel with fixed, ramp-style front sight and windage/elevation adjustable rear sight.
This beauty comes ready for .22 LR ammo and is also available with an optional .22 magnum cylinder. Both cylinders are 6 round capacity.
The Puma Buntline makes a great target pistol and is sure to catch the eye of anyone at the range! The Buntline loads from a side gate at the half cock position just like the M-1873's we currently offer. The hammer is made to traditional SAA appearance. There is a keyed hammer block safety on the left side of the recoil shield for added safety.
The Buntline is available with either black or faux ivory polymer grip panels and matte black metal finish. MSRP is $310.00 with standard .22 LR cylinder and $350.00 with magnum cylinder.
About:
Legacy Sports International, LLC is an importer of firearms and shooting accessories. Bringing in high quality, reliable and affordable products for shooting and hunting enthusiasts is the mission of Legacy Sports' business. With well-respected brands including Howa and Puma rifles, Nikko Stirling optics, Escort shotguns, and Citadel handguns and shotguns. This is why Legacy Sports is known as "The Most Trusted Name in the Shooting Industry." For more information contact: www.legacysports.com