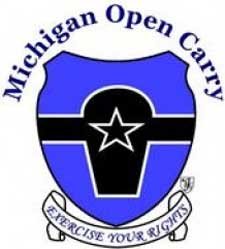 Michigan – -(Ammoland.com)- Our brandishing bills are on the move! Today, HB 5091 and HB 5092 were heard in the Michigan House Judiciary Committee.
Last fall we worked in a bipartisan manner with Representatives Joel Johnson (R-Clare) and Brandon Dillon (D-Grand Rapids) to sponsor two bills that will, for the first time in Michigan, define "brandishing" in our statutes.
While open carry is widely understood to be legal in this state, there are some that still look for ways to impede upon our ability to freely exercise our rights. The legal gray area caused by the lack of such a definition provides room for this to happen. Michigan Open Carry, Inc. is seeking to eliminate this gray area, and in turn, further enhance the legal clarity of open carry, and your rights, in Michigan.
Since the original drafting of these bills, Michigan Open Carry, Inc. has continued to seek language that will most effectively achieve this goal, and as such, we have worked with the sponsors to make improvements over the original versions. Today, two substitute bills were offered and both were supported and adopted by the committee unanimously.
You can find the new language here: HB 5091 Sub – HB 5092 Sub.  Note: the versions on the State Legislature's website will not reflect the changed language until the new language is adopted by the entire House of Representatives, but the bills linked above are the current versions.
We expect these bills to be voted on by the Judiciary Committee next week. Stay tuned, we will keep you updated as these bills progress further.
In other legislative news:
Multiple bills that exempt CPL information from FOIA requests were also voted on and passed out of the House Judiciary Committee this morning. As the bills came up for a vote, Representative Jeff Irwin (D-Ann Arbor) offered an anti-gun amendment to each bill that would effectively require universal background checks AND registration of ALL firearms in Michigan. Each amendment was voted down by the committee and failed.
Tom Lambert
Assistant Legislative Director
Michigan Open Carry, Inc.
[email protected]
Michigan Open Carry, Inc is a Not-For-Profit organization that depends on our dues paying members to continue our operation.  We are an all-volunteer organization.  As such, no one is paid a salary and very few of the personal expenses of our officers are reimbursed.  Won't you consider joining us or renewing as a dues paying member today?  If you need technical help with the process, please email [email protected]