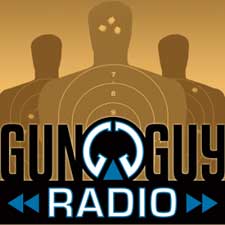 DeKalb, IL –-(Ammoland.com)- Gene Pearcey, perhaps better known as Evil Roy, has won championships at the local, national, and world levels in cowboy action shooting.
This week he and Jake discuss the positive mindset that is behind his incredible success.
The Evil Roy interview originally aired as Episode 22 of Gun Guy Radio, but the advice and guidance that he provides is timeless and universally applicable to any area in which you are looking to succeed.
Evil Roy has never been one to consider failure as a possibility, bad thoughts do not even enter his mind. Before he became a champion shooter he was the youngest Honda motorcycle dealer in the country. He also founded a successful company after obtaining a patent for the construction of concrete domes. In the middle he "went broke," but didn't let that discourage him.
As Gene points "You just gotta have a positive attitude. That applies to business, it applies to shooting, it applies to everything. I will not let myself think negative thoughts because I'm almost sure I can cause bad things to happen."
Gene began shooting in 1993 about the time cowboy action shooting really took off. Now, cowboy action shooting is the largest of all the action shooting sports. Although he did not see immediate success, he went on to win several national and world championships. But, even when he was not seeing the level of success he ultimately came to enjoy he kept a positive outlook.
"I want not to even be around negative people." Gene encourages others to shoot in matches even when the competition is clearly superior. "You want to get beat by the best people, not the worst people because you learn something getting beat by the best people…. If you surround yourself with people who are total failures, then join the crowd. That's exactly what you become." The most important piece of advice he believes he's ever given is "don't be afraid to fail." You should not miss Jake's fantastic interview with Evil Roy.
Paul Levy puts the Brownell's Product Spotlight on the Aero Precision Ultralight Scope Mounts. The 30 mm mount weighs only 3.1 ounces, but this mount retains all the rigidity necessary for your optic to hold its zero. The mount is machined from 6061 aluminum and mounts to a 1913 picatinny rail with added lugs to positively engage the rail. Aero Precision even provides the torx wrench used for all of the screws on the mount. The mount is also available for one inch scope tubes.
GGR wants to make you a winner. One lucky Gun Guy Radio listener will win a Bond Arms Back Up in .45 ACP. Each gun or gear review submitted to the Firearms Insider before April 30, 2014, is a separate entry into this giveaway. There is no limit to the number of entries that any one person can submit. All reviews should be submitted at https://firearmsinsider.tv/submit/.
Listen to this episode at www.gunguyradio.com/108 or subscribe to the show on iTunes to listen to any of the prior episodes. Visit the Firearms Insider Community at www.firearmsinsider.tv.
About Gun Guy Radio:
Gun Guy Radio is an on demand talk show that stays positive and leaves out the politics. The podcast features a variety of popular guests that cover a wide range of topics that firearms enthusiasts crave. Each episode delivers entertainment, education and encouragement that expands firearm ownership and knowledge to the current and next generations. Gun Guy Radio is found on the Firearms Radio Network and releases every Sunday at 12:00 pm central time. Subscribe to the email list and listen via Apple iTunes, Stitcher Radio or www.gunguyradio.com.
Contact:
Jake Challand
President
Firearms Radio Network
Email: [email protected]
Web: firearmsradio.tv