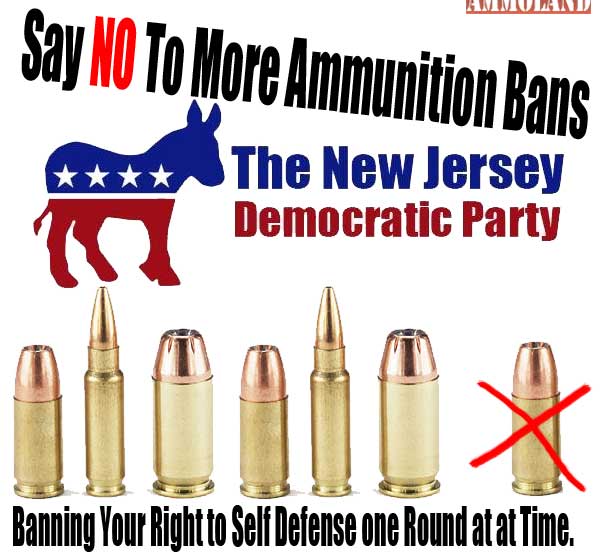 Charlotte, NC –-(Ammoland.com)-  Originally scheduled for Monday, March 3 2014, but now postponed due to weather,  the Assembly Law and Public Safety Committee will hold a hearing on Assembly Bill 2006, introduced by Assembly Majority Leader Louis Greenwald (D-6).
A.2006 seeks to lower New Jersey's magazine limit from 15 rounds to 10.  The Garden State is one of only six states in the nation that even has a magazine capacity restriction.
Such restrictions only prevent law-abiding citizens from being able to effectively defend themselves from criminals who ignore such arbitrary limits on magazine capacity.
Rather than focus on real solutions to the state's crime problem, lawmakers in Trenton are once again looking to punish the state's law-abiding gun owners.  This unconstitutional legislation represents the largest magazine ban and confiscation scheme in the history of the state.  These magazines are in common use, and there are hundreds of thousands of them which are lawfully owned and used by law-abiding gun owners in New Jersey.  This legislation could turn thousands of unsuspecting, law-abiding citizens, who currently possess magazines capable of holding more than ten rounds of ammunition for self-defense and other lawful purposes, into felons.  The location for the committee hearing is provided below.  (Could change by Monday)
Hearing Information
Monday, March 3 at 1:00 p.m. (Rescheduled, new date to be announced)
State House Annex, Room 12
West State Street
Trenton, NJ 08625
CONTACT THE COMMITTEE MEMBERS
Using the contact information provided below, please call AND e-mail members of the Assembly Law and Public Safety Committee immediately and respectfully urge them to vote "NO" on Assembly Bill 2006.
Assembly Law and Public Safety Committee:
Assemblyman Charles Mainor (D-31), Chairman
[email protected]
201-536-7851
Assemblyman Gilbert L. Wilson (D-5), Vice-Chairman
[email protected]
856-547-4800
Assemblyman Joseph Cryan (D-20)
[email protected]
908-624-0880
Assemblyman Gregory P. McGuckin (R-10)
[email protected]
732-840-9028
Assemblyman Erik Peterson (R-23)
[email protected]
908-238-0251
Assemblywoman Nancy J. Pinkin (D-18)
[email protected]
732-548-1406
Assemblyman David P. Rible (R-30)
[email protected]
732-974-0400
Assemblywoman Shavonda E. Sumter (D-35)
[email protected]
973-925-7061
About:
Established in 1975, the Institute for Legislative Action (ILA) is the "lobbying" arm of the National Rifle Association of America. ILA is responsible for preserving the right of all law-abiding individuals in the legislative, political, and legal arenas, to purchase, possess and use firearms for legitimate purposes as guaranteed by the Second Amendment to the U.S. Constitution. Visit: www.nra.org