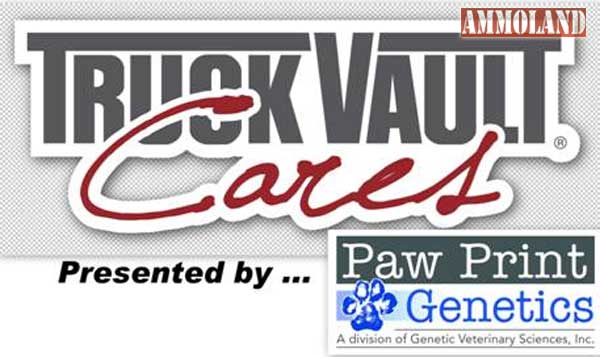 South Dakota –-(Ammoland.com)-  Wingshooting USA TV creator Scott Linden announced a new presenting sponsor and beneficiary groups for his fourth annual "TruckVault Cares … for conservation, canines & kids" initiative.
Paw Print Genetics (www.pawprintgenetics.com) has signed as presenting sponsor. The firm provides testing services for a variety of canine diseases and genetic conditions. Linden describes the services as a "CarFax" for puppy buyers.
Starting in July, the public awareness and fundraising campaign spotlight will be shared by five groups: USA Shooting, training and sanctioning organization for U.S. Olympic and Paralympic shooting sports, Quail and Upland Wildlife Foundation provides funding and manpower for on-the-ground projects, Theodore Roosevelt Conservation Partnership's primary goal is to ensure public access to public lands, Farmers and Hunters Feeding the Hungry funds processing and facilitates hunter donations of meat to needy families, German Shorthair Club of America's dog rescue effort finds new homes for lost and abandoned hunting dogs.
"With the winter Olympics in the history books and America looking toward the summer 2016 Games, we should see strong attention given to our lead group that will benefit all our partners," Linden says. "Last year's 156,000 votes will be hard to top, but these groups have wide reach and motivated members, and with every vote putting dollars in their treasuries I have high hopes," he added.
Beginning July 1, anyone can vote daily at www.truckvault.com/truckvaultcares and the TruckVault Facebook page. Voters are eligible for prizes throughout the campaign, which ends December 31, 2014, when a $5,000 prize package is awarded. Wingshooting USA TV also awards a $10,000 funding package proportionally to each group based on the number of votes it receives.
"We are looking forward to the fourth year of TruckVault Cares with great anticipation," said TruckVault director of sale and marketing Don Fenton. "The participation and support the program received in 2013 was unparalleled and with our new crop of beneficiaries we look forward to even greater possibilities in 2014."
Additional sponsors for "TruckVault Cares … for conservation, canines & kids … presented by Paw Print Genetics" include title sponsor TruckVault, Happy Jack dog care products, Filson apparel, Fiocchi ammunition, Pursuit Channel, Linden's Signature Series of dog gear, SportDOG, and O.F. Mossberg & Sons.
The most-watched upland bird hunting show on television, Wingshooting USA is the official TV series of the National Shooting Sports Foundation. It airs on seven networks, including Discovery's Destination America starting in July.