Marion P. Hammer
USF Executive Director
NRA Past President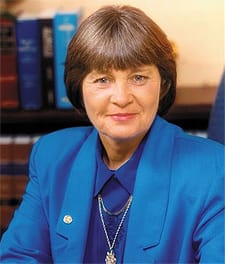 Florida – -(Ammoland.com)- Tuesday, 4/1/2014, SB-296 by Senator Jeff Brandes was heard in the Florida state Senate Military & Veterans Affairs Committee and PASSED by a vote of 5-4.
SB-296 is the Senate version of HB-209 that was under attack by the Florida Sheriffs Association in the House Judiciary Committee (passed 17-1) last week and continued to be under attack in the Senate.
SB-296 Firearms/Mandatory Evacuations is a bill to allow law-abiding citizens to take their firearms with them when they are complying with a mandatory evacuation order under a declared state of emergency. This bill will keep law-abiding citizens from being arrested and having their firearms confiscated for taking their firearms with them when they evacuate.
The Florida Sheriffs Association (FSA), while proclaiming their support for the Second Amendment, continues to actively OPPOSE this legislation and your right to bear arms.
This bill, has had overwhelming support in the House but was stuck in this Senate committee because of the actions of FSA. Members of this committee are comprised of 5 Republicans and 4 Democrats. Republican Senator Charlie Dean is a former sheriff and made it clear he would never support this bill.
Fortunately, following the lead of numerous Democrats in the House, Democrat Senator Joe Abruzzo voted in support of the bill and offset Senator Dean.
Senator Abruzzo's e-mail address is [email protected] and he deserves your thanks.
This was the last meeting of this Committee for the Session and SB-296 was the only bill on the agenda yesterday.
Special thanks to Senate President Don Gaetz and Majority Leader Lizbeth Benacquisto for giving this bill a chance.
Committee Members SUPPORTING the bill:
Thad Altman (R) Chairman
Joe Abruzzo (D)
Greg Evers (R)
Andy Gardiner (R)
John Legg (R)
Committee Members OPPOSING the bill:
Dwight Bullard (D)
Charlie Dean (R)
Audrey Gibson (D)
Maria Sachs (D)
To watch the hearing & testimony on this bill click below
https://thefloridachannel.org/videos/4114-senate-military-affairs-space-and-domestic-security/
You may find the news article, Bungling the meaning of 'the right to bear arms' by Lee Williams in the April 1 edition of the Herald-Tribune interesting. It concerns the Florida Sheriffs Association's conduct on Second Amendment issues.