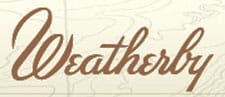 Paso Robles, CA – -(Ammoland.com)- Weatherby has partnered with Rockhouse Motion to produce videos for a new online marketing initiative scheduled to premiere early this fall at www.WeatherbyTV.com.
The videos will feature all Team Weatherby members as well as the Weatherby company, products, hunts and other adventures.
The first Team Weatherby video, "LUKE," can be found at https://youtu.be/BgWzbx-kZls. It is a six-minute feature on Luke Branquinho competing in The American, a rodeo with the largest single-day payout—$2 million—in the history of the sport.
"The creation of WeatherbyTV.com is an enormously important initiative in our marketing strategy," said Mike Schwiebert, vice president, marketing, for Weatherby, Inc.

"Finding the right production company to represent our vision in a unique, compelling and powerful way was a real challenge. It took us over two years to find the perfect partner and we are extremely honored and excited to have RockHouse Motion as the newest member of the Weatherby family."

"We eagerly anticipate our newfound partnership with Weatherby and appreciate the company's investment in high-quality video and their creative vision," said Rockhouse Motion team member Aaron Hitchins.

"We are confident the campaign will push the boundaries of outdoor industry marketing and redefine the scale and quality of motion content. The Weatherby marketing team's vision, attitude and commitment to quality are truly second to none, and this will even further invigorate the potential of this ambitious project. It's an honor to be a part of it."
Rockhouse Motion is a boutique creative agency based in Central Kansas. Working inside and outside the outdoor industry, the four-man Rockhouse team specializes in creating cutting-edge video, photography and branding. Their love for storytelling in words and images has taken them to dozens of states and provinces, as well as 10 countries over the past two years.
While the bulk of Rockhouse Motion's work is for clients, the team has also earned accolades in a variety of nationwide film festivals, including the "4K Art of Amazing" festival, the "International Fly Fishing Film Festival" and the "Outdoor Film Festival and Tour." For more information, visit www.rockhousemotion.com.
Founded in 1945, Weatherby, Inc.'s line features the new WBY-X products as well as the popular Vanguard Series 2 and legendary Mark V rifles (production and custom), Threat Response shotguns and rifles, semi-auto and pump shotguns, premium ammunition and security/shooting accessories. For more information, go to www.weatherby.com. The company is based in Paso Robles, Calif., and invites all hunters and shooters to visit its free online community at www.weatherbynation.com or Facebook page at www.facebook.com/Weatherbyinc.