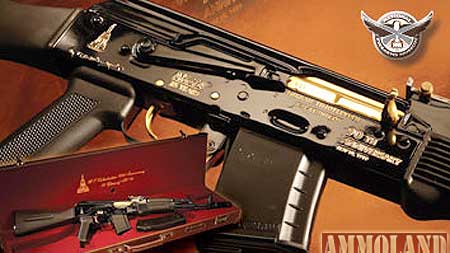 LAS VEGAS, NV– – -(Ammoland.com)- K-Var Corp. and Arsenal, Inc., have joined together in an effort to give back to our loyal customers and to help educate local groups in gun safety and recreational activities.
In the current political climate, we have found that the impact we make outside of the industry is just as important as the impact within.
Last month, Arsenal and K-Var joined together once again to donate over twenty-five thousand dollars to the Las Vegas Area Boy Scouts of America (BSA) in sponsoring the 7th Annual Arsenal Sporting Clays and Scout Steel Challenge.
To aid the fundraising efforts of the BSA, several of our firearms were donated for a silent auction to benefit the education of scouts throughout the Las Vegas Valley.
In addition to our local work, K-Var Corp. and Arsenal, Inc., recognize the important and invaluable work being done by our friends at the National Rifle Association. Our donation of a Gold Edition MTK90 Jubilee Rifle to the NRA auctions was recently won for $21,000.00. Those funds can now be used to help fund the firearm education of the general public.
We hope to continue our local and national work to benefit you, our loyal customers and friends, and we also hope that you will do the same. Every donation to the NRA, the FAIR Trade Group, or to other organizations can make a difference for the future.
Read more about the GOLD EDITION MTK90 JUBILEE
ABOUT ARSENAL, INC.
Arsenal, Inc. is the exclusive licensed US manufacturer of the finest, most authentic firearms for government agencies, shooting enthusiasts, and TV & film industry. Arsenal, Inc. uses the latest technology and materials in conjunction with the legendary standards of Arsenal of Bulgaria.
All models made in the US and in Bulgaria are shoulder-fired, gas-operated, magazine-fed rifles and pistols built on forged then milled receivers and implement CNC technology. A wide variety of models are available in calibers 7.62x39mm, 5.56x45mm, and 5.45×39.5mm. Arsenal, Inc. also produces a line of rifles and pistols incorporating stamped receivers that offer an economically priced alternative to the traditional forged and milled construction.
Arsenal, Inc. is online at www.arsenalinc.com, on Facebook at www.facebook.com/arsenalinc, and now on Twitter at http://twitter.com/Arsenal_Inc. Phone Arsenal, Inc. at (702) 643-2703 or by email at [email protected]