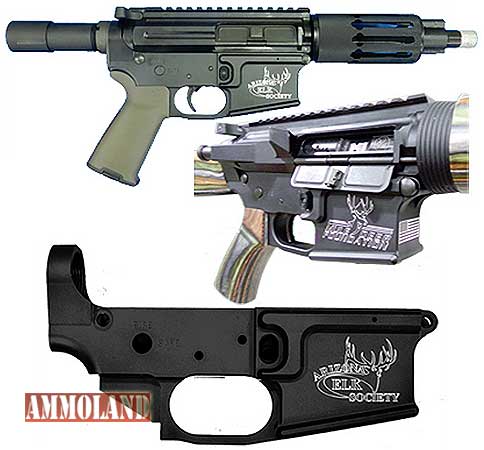 Phoenix, AZ –-(Ammoland.com)- Layke Tactical, a new American manufacturer of AR15's offers free laser engraving on any of their rifles.
Customers can provide artwork their family crest, company logo or name and Layke Tactical will engrave the image on the lower receiver.
Buyers may even request their own serial numbers.
Layke Tactical has provided this engraving to the Arizona Elk Society, Arizona Game and Fish and the Mule Deer Foundation for fundraising banquets this past year.
Operations Manager, Dan Shultze said " We make custom high quality rifles and wish to provide something a little more special to our buyers. We have had several orders with a family crest engraving to be passed down as an heirloom".
There is no cost for the engraving and no minimum order.
The Arizona Elk Society and the Mule Deer Foundation are proud to feature the Layke Tactical rifles with their logo on them. Layke Tactical has been involved with the Arizona Elk Society for 13 years. Owner Ernie Apodaca and others at Layke are long time hunters and are dedicated to supporting wildlife conservation.
Arizona Elk Society Executive Director Steve Clark said "Layke Tactical has helped our organization raise thousands of dollars for elk and wildlife in Arizona, if you need to raise funds for wildlife conservation you owe it to your group to give Dan and the guys at Layke a call."
If you have a need for fundraising and would be interested in having Layke's customize your logo to their rifles and pistols contact Dan Shultze at Layke Tactical. Layke Tactical can fit your needs with many models of AR15 rifles and pistols available. For hunting organizations Layke has come out with their new Hunter Series AR15 Rifles. Watch for the release of the AR10 series soon.
Our Story:
Layke Inc., having a 59 year history of machining precision components for the Areospace and Missile Industries challenged our Design Engineers to develop "Areospace Brand" Tactical Components & Custom Rifles. These products are machined and assembled by the same Journeyman Machinists manufacturing components currently in flight, space travel and supporting our military. Owner Ernie Apodaca an avid hunter and gun enthusiast is excited and proud to be releasing these rifles to the market. www.layketactical.com