Obsolete Arms and Ammo
By Bob Shell
Ruger GP100 Revolver Review with load results.
Apache Junction, AZ –-(Ammoland.com)- The Ruger GP100 Revolver has been around for a number of years.
It was introduced in 1985 and replaced the Security Six revolver. There were some changes made which made the Ruger GP100 Revolver one of the strongest double action revolvers available. They are available in some different barrel lengths and possibly other finishes so it would be a good idea to check out the Ruger website to see what revolver options are available as models change.
The Ruger GP100 Revolver model I received is the "Match Champion" which is supposed to have a couple of features lacking on the regular revolver model. It includes a worked action to enhance smoothness. A three lug system and extra work went into lining up the cylinder with the barrel, which should enhance accuracy. It cost $200 more then the standard Ruger GP-100 Revolver.
Ruger GP100 Revolver Review – Match Champion
Right off there are a couple of things that surprised me.
First of all the double action pull is fairly heavy in my view for a competition gun going 12 LBS according to my gauge. Some of the other shooters with better hands liked the double action pull so that is one of the reasons why I have several people try out these guns. The single action is nice at 4 LBS and has no travel or creep. I don't see any way to adjust it though a qualified gunsmith may be able to lighten it. The front sight is a fiber optic and is easy to pick up however the rear is fixed which I find odd considering it is a target gun.
Without a doubt, there are adjustable sights available but in my view they should be standard on this gun.
The frame is set up to accept various custom grips which is a good feature since not everyone will not like the factory offering. In my view they are ok but if I was going to shoot it a lot I would look around for a different type.
Multiple Shooters Agree on th Ruger GP-100 Match Champion Revolver.
As is something I always do I have other people shoot the T & E gun, that way I get a more fair view of how the gun is liked. Everyone who has tried it likes the grips. That was usually one of the first comments they made about it.
The Ruger GP-100 Revolver frame is heavy so it should digest heavy loads over a period of time without a whimper.  Except for heavy loads with heavy bullets recoil shouldn't be an issue. A ported barrel might help out by reducing felt recoil.
The .357 is one of the most versatile rounds available capable of digesting bullets from 50 to 200 grains. In addition you can shoot 38 specials as well as 38 short and long Colt rounds for real light loads. There are more types and weights of bullets available then can be covered in this article. Anyone who makes handgun bullets or ammo makes .38 and .357 components.
I picked up some Armscor 158 grain FMJ – RN bullets. The problem is they have no cannelure which enables the bullet to move. I put a cannelure on them which was somewhat difficult because they are hard. Since I knew that before I bought them, they will have other uses. But that will be another story.
Hornady bullets and ammo were used and they have a couple of real interesting new products. They have a 90 grain pink load for those who are recoil shy but want some effective personal ammo. Since it is a lead free HP penetration should be good while providing good stopping power. It would be really nice in a 2" featherweight. Hornady makes a 140 grain flex tip which should find some various uses including some hunting applications. They are in addition to their regular line up of bullets and ammo. For info go to www.hornady.com
As with any gun the proof in the pudding is how well it shoots. When I do a gun review I try to get some factory ammo because it gives me a chance to evaluate my handloads and not everyone reloads so that info should help them out. Double Tap sent some loads in both 38 and 357. I have used a lot of Double Tap ammo for both rifles and handguns and have never been disappointed in its performance. They have an extensive line and it is always growing.  If you don't give them a try that might be an error on your part. For info you can go to www.doubletapammo.net
For handloaders there is a good variety of 357 bullets though with current shortages they might be hard to get. One company that has been around for years is Sierra Bullets. They make a good selection of bullets for us handloaders and if I am looking for the most accurate bullet there is a good chance that it will be a Sierra product. I have some 158 grain FP bullets for this T & E. For info on their line of fine bullets you can go to www.sierrabullets.com to get any needed info. They also have a very comprehensive loading manual.
Load Testing Results in the Ruger GP100 Revolver
LOAD                                         BULLET                                    VELOCITY                             COMMENT

38 Special loads

Hornady Lite                        90 grain HP                                  1051                                  mild

Double Tap                           110 grain Barnes                      1172                                     ok

5.5 X 231                              110 grain Barnes                      1016                                   low recoil

6 X HS-6                                  125 grain SWC cast              1091                                      consistent

8 X HS-6                                  125 grain HP                          961                                       mild

3.5 X 231                                148 grain CMA WC               632                                      mild

8 X HS-6                                 158 grain FMJ                         916                                      high es

8 X HS-6                                 158 grain Sierra FP               1006                                    high es

6 X HS-6                                   158 grain cast                       683                                     slow

7 X Unique                            158 grain FMJ                        1141                                    very high ES

Double Tap                           158 grain cast SWC                1019                                 consistent

6 X HS-6                                160 grain coated SNS             668                                    mild

Winchester (38 Super)          130 grain FMJ                       1107                                 decent

357 magnum loads

Double Tap                            110 grain Barnes                        1613                            nice

14 X Blue Dot                        125 grain Hornady XTP           1514                             potent

Double Tap                           125 Bonded Defense                 1496                             warm

10.5 X HS-6                              140 grain Hornady FTP          1349                            nice load

9.5 X HS-6                               158 grain HP                             1091                             high es

9.5 X HS-6                               158 grain FP                             1059                             decent

6 X HS-6                                 158 grain cast                         711                                  ok

12 X Blue Dot                       158 grain FMJ                           1240                            good load

Double Tap                            195 grain HP                           989                                consistent

Double Tap                        200 grain cast                             1203                              hunting load

13 X 296                     200 grain cast performance             1075                            nice
I was thinking that wanted to try something new with the 357.
Since there are so many bullets and load combos I wanted something unique. I tried basically the same thing with the 327 mag which was trying a 32 auto in it. Since it has a rim, I thought it would work and it did. So applying that logic, I figured that since a 38 super case has a rim why not try it. I tried some primed cases and they all went off and the extractor did a decent job of removing the cases. I only had a few cases and for some reason some would not fit, even after sizing with a 9 mm Luger and a 38 die. So the obvious question is why?
Under ordinary circumstances there is no logical reason to shoot these. In an emergency, and if no other ammo was available, it is nice to know that you might have a solution to having no ammo. Ballistically there is no logical use, but as long as they are safe why not. 
I shot the 38 super ammo and as expected it shot ok in fact shot a pretty decent group at 15 yards though off to the left as was most of the other ammo I shot. With various loads the accuracy potential looks great. Shot some groups at 15 yards and when I did my part, groups stayed around an inch. Using my Competition Electronics Pro Chrono Digital Chronograph I speed checked some Winchester 38 super with the 130 grain FMJ and they were consistent.
As a note, I do not recommend shooting 38 supers in a 357 mag except if nothing else is available. Do not shoot them in a 38 as the pressures exceed the SAMI loads even the 38 + P rounds. It would be extremely hazardous to attempt that. If they are handloaded down they probably would be ok but I still don't recommend it.
I did have some extraction problems though not serious because the rim on the super is smaller. Every gun is different so these loads may or may not shoot well in other similar weapons.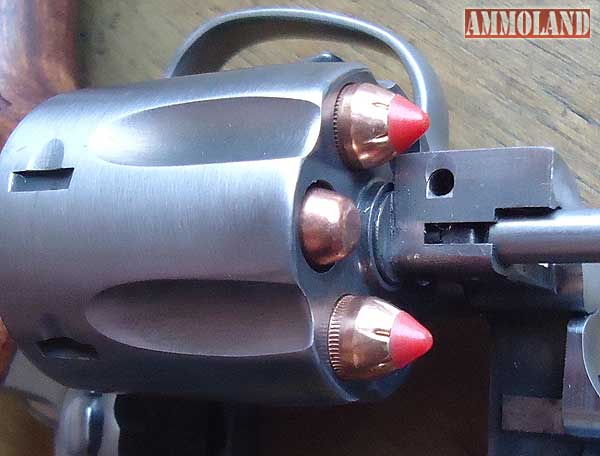 If you want to get an idea as to the accuracy potential of your revolver there is a way to check it out and anyone can do it.
Take a jacketed bullet that is .357 and measure it to be sure. Put it through each chamber to see what happens. Ideally, it should go through with barely a nudge. If there is play that allows the bullet to flop around that will have a negative effect on accuracy. If it flops about it may go into the rifling slightly crooked. On the other hand if you have to use some force to get it through that probably means that it was swaged down a little. If it is undersize going into the barrel accuracy will suffer. A good quality revolver will not have these situations and the cylinder will be perfectly aligned with the barrel.
This extra work that Ruger did on the Ruger GP-100 Match Champion Revolver increases the accuracy and the cost. If excellent accuracy is important then the extra cost is worth it.
I have done this and other measurements on quite a few revolvers and sometimes you get over or undersized chamber holes and I have had different size holes in the same gun. I can guarantee you that those conditions do nothing for accuracy. Those problems generally occur with older and lower price guns.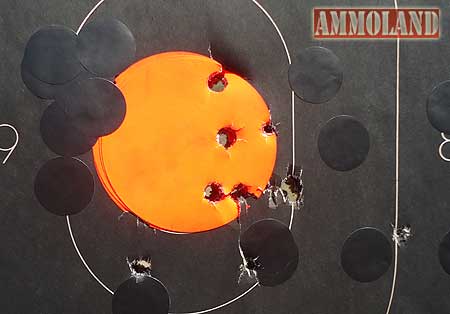 As mentioned above I always have other shooters try out whatever product I am doing a T & E on. That way I can get a more honest feedback from various types of shooters. I have one youngster shooting it and he handled it pretty well. He, as well as other shooters including myself, like the grips. They are comfortable even with heavy loads. At our public range, I had several random shooters try it and they all liked the Ruger GP100 Revolver. Most favorable comments centered on the grips and the single action trigger pull.  The front sight is really nice as you can pick it up easily in varying lighting conditions.
Unfortunately, I can't say much nice about the rear sight. It is fixed which is puzzling as the Ruger GP-100 Match Champion Revolver is advertised as a competition gun. Many of the loads I shot hit to the left though they did group well.
I would guess that a customer could purchase an adjustable rear sight but it shouldn't be necessary. After a couple of sessions it is obvious that this gun can shoot well. Since the gun is rugged, I want to focus on heavy hunting bullets. The Double Tap 200 grain cast definitely has some possibilities and will get some 180 and 200 grain slugs of various designs to work with.
Ruger GP-100 Match Champion Revolver Specs
Model Number: 1754 | Caliber: 357 Mag
Material: Stainless Steel
Finish: Satin Stainless
Front Sight: Fiber Optic
Rear Sight: Fixed
Barrel Length: 4.2″
Overall Length: 9.50″
Weight: 38.00 oz.
Grips: Hogue Stippled Hardwood
Twist: 1:18.75″ RH
Grooves: 5
MA Approved & Certified: No
CA Approved: No
Capacity: 6
Suggested Retail: $899.00
Ruger GP-100 Match Champion Revolver Features: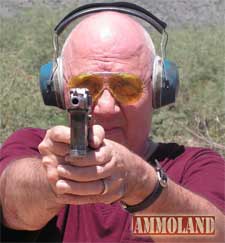 The Match Champion Model is designed with the competitor in mind. With its ergonomic enhancements and tuned action, the Match Champion delivers fast, accurate shots and takes the popular GP100 to the next level. It features a contoured cylinder, Novak Lo-Mount Carry rear sight and fiber optic front sight, Hogue hardwood grip with stippled sides and a slab-sided, half-lug target crowned barrel.
Patented grip frame design easily accommodates the use of a wide variety of custom grips.
Patented Ruger transfer bar mechanism provides an unparalleled measure of security against accidental discharge.
Triple-locking cylinder is locked into the frame at the front, rear and bottom for more positive alignment and dependable operation shot after shot.
Easy takedown of integrated subassemblies requires no special tools and allows for no hassle maintenance and assembly.
Also features a slab-sided, half-lug barrel and hard plastic case.
If you are looking for an accurate heavy duty revolver and the price doesn't bother you I would highly recommend trying out this gun. All thumbs up if you will.
About Bob Shell
A Custom Reloader of Obsolete and Antique Ammo, Bob Shell, writes about the subject of Guns, Ammo, Shooting and Related Subjects. Visit: www.bobshellsblog.blogspot.com