A CHP SOLUTION THAT SPEAKER TILLIS IGNORED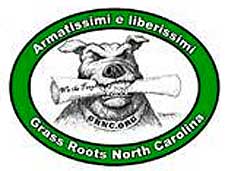 North Carolina –-(Ammoland.com)- Our friends at the Second Amendment Foundation (SAF) have filed a lawsuit against the state of North Carolina on behalf of an Australian citizen who is a legal resident of North Carolina.
Felicity M. Todd Veasey possesses a permanent resident visa, and has lived in North Carolina for over ten years.
Unfortunately, this law-abiding resident cannot obtain a concealed handgun permit (CHP), because state law only allows citizens to have CHPs. Grass Roots North Carolina (GRNC) fully supports SAF in this effort, and we are asking GRNC supporters to do so as well.
Regardless of birthplace, each of us has the right to keep and bear arms, and there is no reason why law-abiding legal residents should have their natural rights hampered in any way.
Updating state law to allow legal residents to obtain CHPs is something that has been on GRNC's radar for some time. GRNC actually included the solution to this problem in its recent "CHP Modernization" bill, a bill that was ignored by Speaker Thom Tillis.
It's a shame that Speaker Tillis didn't consider or support CHP modernization in the first place. Because of his mistake, it has come to a costly legal battle instead. Below, you'll see how you can send a quick note to the Speaker to remind him that the lawsuit North Carolina now faces could have been avoided, and admonish him to be more responsive to common sense, pro-Second Amendment bills in the future.
IMMEDIATE ACTION REQUIRED!
E-mail Speaker Thom Tillis. Use this e-mail address: [email protected] and the copy/paste message below.
Click here to contribute to the Second Amendment Foundation (or: https://saf.org/?page_id=66). Please help SAF with this lawsuit, a lawsuit that GRNC fully supports.
DELIVER THIS MESSAGE
Suggested Subject: "Next Time, Support Common Sense, Pro-Gun Bills"

Dear Speaker Tillis:

It has come to my attention that the Second Amendment Foundation (SAF) has filed suit against the state of North Carolina in order to establish concealed handgun permit eligibility for non-citizen legal residents. It is my belief that all law-abiding people have a right to keep and bear arms, and so I fully support the SAF in this effort.

Of course, litigation on this issue would have been entirely unnecessary had you simply supported GRNC's "CHP Modernization" bill. This bill would have solved the legal-resident problem without lawyers and without court costs. It's very likely that the state will lose this legal battle, but win or lose, it will cost the tax payer. That's unfortunate because this is an issue that should have been previously resolved at no cost to the taxpayer. I suppose there's an easy way and a hard way to do everything.

In the future, when a common sense, pro-Second Amendment bill is presented to you, I must insist that you do not ignore it. I will continue to watch your actions on this issue, and on similar issues as well. I will do so via alerts from Grass Roots North Carolina.

Respectfully,
About:Grass Roots North Carolina is an all-volunteer organization dedicated to preserving the freedoms guaranteed us by the Bill of Rights. Our main focus is the right to keep and bear arms. GRNC was central to drafting and passing North Carolina's concealed handgun law and since that time has continued to push for improvements to gun laws. Visit:www.grnc.org