USA –-(Ammoland.com)- The difference between an adequate hunter and a great sportsman is often found in the gear they bring on their hunts.
The National Survey of Fishing, Hunting and Wildlife found that American outdoors enthusiasts spent nearly $90 billion on their pursuits in 2011 and that more than $33 billion was spent on hunting. Choosing the right gear can make a difference. Here are four of the best new items to add to your kit for 2014.
ALPS OutdoorZ Quickdraw Pack
Build by ALPS OutdoorZ ( http://goo.gl/xImzvc ) the Quickdraw Pack is a unique pack new for 2014 that can be worn over either shoulder for easy and quick access. Built to secure a variety of bows, the Quickdraw even has a place for a quiver to be secured, allowing bowhunters to keep their hands free at all times. With its built in insulated water bladder and d-ring hanger that is designed to suspend the pack from a deer stand, the ALPS OutdoorZ Quickdraw is a must have item for bowhunters planning their next buck hunt. While the Quickdraw pack can be slung on either the left or right side, it's a great gift to left-handed bowmen. Left-handed shooters have struggled in the past to find a pack that can accommodate them, but the Quickdraw is the pack they've been waiting for.
Badlands EXO Rain Gear
Badlands EXO Rain Jacket ( http://goo.gl/Rn6HrD ) is an easy to pack, light and breathable kit to help you retain heat and stay dry while out in the field. Treated with durable Dupont Teflon coating to provide the best water resistance, the Badlands jacket can be easily packed into even the smallest backpack. Designed to be breathable and prevent overheating, Badlands' Rain Gear is superior to many other lesser rain gears that simply smother you in rubbery fabric to keep wetness out. Zippered vents let you open up the gear, so you never need to worry about stripping it off if the weather shifts. Order your own Badlands Exo Rain Jacket online at http://goo.gl/Rn6HrD .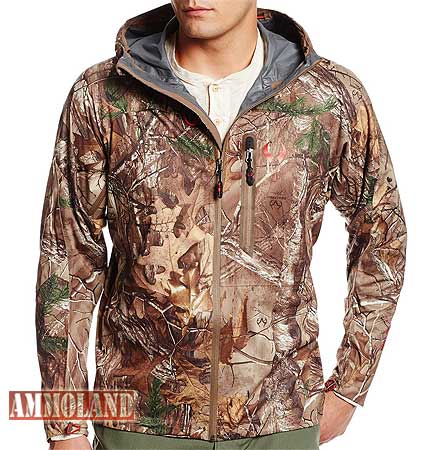 Oakley Jawbone Sunglasses
Originally designed for cyclists, Oakley Jawbone Sunglasses ( http://amzn.to/VA2BCg ) are a perfect fit for hunters as well. Designed with patented Switchlock Technology, Jawbones allow sportsmen to quickly replace lenses for light or weather conditions. Damaged lenses are an easy fix. Simply swap-in replacements lenses by flipping the nose guard up and sliding in a new pair of lenses.
Cabela's Avalanche Boots
The Avalanche 400-Gram boots from Cabela's stop cold weather from impacting your hike. Insulated and waterproof, the breathable boots have a fleece lining to keep your feet warm and dry. Crafted with nubuck leather and Tec-Tuff toecaps, each pair of Avalanche boots is designed for maximum protection from the elements and abrasion of the wilderness. Strong and durable, these boots are the perfect choice for ram hunting in the mountains where terrain is difficult and cold weather can make an unprepared hunter have second thoughts about his quarry. Cabela's Avalanche Boots ( http://goo.gl/VdWmGQ ) are built for a snug fit, so if you wear heavy socks while out on a cold-weather hunt, it is best to purchase a pair a size larger than your normal boot size for the best fit.