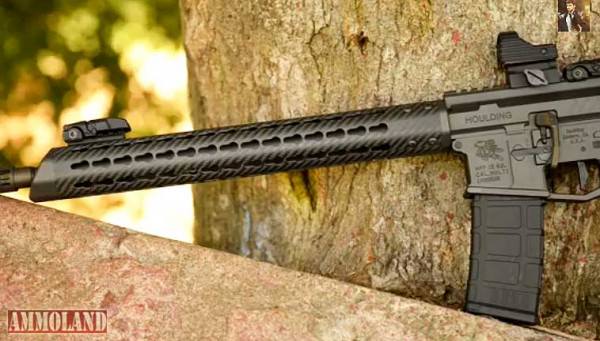 Madera, CA – -(Ammoland.com)- Houlding Precision Firearms , a leading California manufacturer of AR style weapon systems and accessories, is announcing their latest rifle, the HPF – Wraith.
The HPF – WRAITH is a six pound ultralight rifle for the hunter, gun enthusiast or competitive shooter . It is an AR – 15 style rifle chambered in .223/ 5.56 .
The features that are "add – ons" with other manufactures after the initial purchase are inte grated into the HPF design for a value – added product that benefits the end user. Just like all of the HPF – Rifle s , this rifle includes the HPF family of products: Receivers, Muzzle Brake s , Handguard s , Stock and the HSS Coated BCG. All rifles are US Made, Cerakoted, include a limited lifetime warranty, and are " Ready to Win ", RIGHT OUT OF THE BOX.
To begin, the HPF – WRAITH starts with the HPF – Curse muzzle brake. This efficient muzzle brake , designed for competition shooting , has 60° off set porting to prevent muzzle rise and smaller ports to prevent muzzle blast on the firing line .
The 16" match grade, mid – length gas system barrel with 1:8 twist ensures optimum reliability and accuracy . Next is the newest member of the HPF family of handguards, the HPF – NMX Handguard . This carbon fiber Handguard is made of 100 % ultra – light carbon fiber, not wrapped or painted , and finished wi th billet end caps . The NMX has the latest Magpul M – Lok accessory rail system slots in all positions for maximum versatility (key mod version shown above) . The ergonom ic octagonal shape of the NMX ensures a sure grip and includes the very light, aluminum HPF – Barrel Nut.
Despite it s lightweight feel, the quality and durability have not been compromised.
The HPF – WRAITH includes the HPF – 15 Receiver Set which is CNC machined from solid blocks of 7075 T6 billet aluminum and custom fit to exacting tolerances. Each receiver has an octagona l reinforced design that allows for superior rigidity and durability. The HPF – 15 Lower Receiver has an integrated trigger guard, flared and beveled magwell for efficient speed loads and every HPF – 15 Billet Receiver is mil – spec hard coat anodized for a beau tiful and durable finish. As a testament to their attention to detail, a complete American flag is intricately engraved on every trigger guard of the HPF – 15 Lower Receiver .
The HPF – WRAITH build is completed with the Geissele Super Dynamic 3 Gun trigger (SD – 3G). This single stage, 2.5 pound competition trigger with a flat trigger shoe was chosen for its short reset a nd winning performance. Next, a Low Mass Bolt Carrier Group, CNC machined with extra material relieved for low mass weight. All components are nickel Teflon coated for lubricity and durability. Gas key is properly staked and the BCG wipes clean. Continuing with their devotion to lightweight yet strong, Houlding has created the H PF – ULStock . Like the NMX Handguard, the ULStock uses real (not wrapped or painted) ultra – light carbon fiber for the buffer tube. The stock is available in both carbine and rifle lengths and is finished with billet aluminum butt plate and threaded adaptor. Lastly, a low pro gas block, medium latch charging handle, Magpul p istol grip, sights and BAD Lever complete this rifle.
See the Wraith in action on FPS Russia's YouTube channel:
Houlding Firearms will be offering an introductory price of $1999 for the HPF – WRAITH Rifle but only for a limited time. MSRP is $2499 and includes a Flambeau rifle case. All of the HPF products are available for purchase on their website: www.houldingfirearms.com .