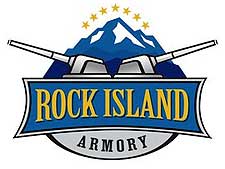 Pahrump NV –-(Ammoland.com)- Rock Island Armory this month shipped the first batch of 100 production .22 TCM Bolt-Action Rifles to the United States.
The company plans to continue serving the American market with a recurring supply of 300 additional rifles every month for the foreseeable future.
This rifle is exclusively designed to harness the power of the Armscor .22 TCM 40-grain jacketed hollow point cartridge and averages 2,800 feet per second out of the barrel.
"We're excited to bring this rifle to US consumers," said Martin Tuason, CEO of Rock Island Armory and Armscor Precision International. "The door is now open to an entirely new segment of shooters to enjoy the merits of this new and powerful cartridge."
The first shipment of .22 TCM Rifles can be found through Big Rock Sports, Ellett Brothers, Davidson's, RSR Group INC, Williams Shooters Supply and Zanders Sporting Goods. Additional distributors and online retailers will have their own inventory upon later shipments.
Rock Island Armory .22 TCM Rifle Feature Set:
– Bolt-Action
– Chambered exclusively for .22 TCM ammunition
– 5 round standard capacity
– Interchangeable with .22 TCM 17 round pistol magazine
– 22.75 inch barrel
– Overall length 40.5 inches
– Parkerized finish
– Light at 6 lbs. empty
– Rail mount for scope
– Ideal for mid-range use hunting
See the .22 TCM in action here: http://youtu.be/-UYgilLqaZU
About the TCM series
The TCM series was inspired by the need for more firepower in lower caliber firearms and ammo.
The series was designed and developed by Master Firearm Engineer Fred Craig and Armscor / Rock Island Armory CEO, Martin Tuason. The TCM stands for Tuason Craig Magnum.
The .22 TCM bullet has been called the "Flame Thrower" by one prominent reviewer and has been embraced by hunters, self-defense and shooting enthusiasts.
The overwhelming demand for the bullet's industry leading high velocity and stopping power has prompted the company to expand its US production facilities.
Armscor USA .22 TCM bullet features:
– Velocity – 2,800 feet per second
– 40 grain jacketed hollow point
– Maximum expansion
– Centerfire
– Precision engineered to meet all SAMMI specifications
For more information about the .22 TCM bolt-action rifle and the industry leading .22 TCM ammunition, visit the Armscor and Rock Island Armory website at www.armscor.com.