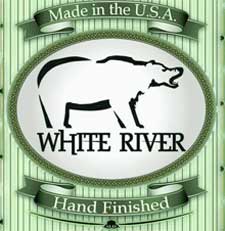 Coopersville, MI – -(Ammoland.com)-  Specialty knife-maker White River Knife & Tool has just released its long-anticipated Jerry Fisk-designed Sendero Bush Knife.
Jerry Fisk's collaboration with White River Knives is the latest in a long line of stellar knife creations by the long-time Master Bladesmith in the American Bladesmith Society.
Jerry has built top-quality custom knives for decades and his knives, when you can find one, rarely dip below $2,000 for even a modest blade.

Jerry recently crafted a fund raising knife specifically for the NRA/ILA called Freedom's Steel III – Shall Not Be Infringed: It was auctioned at the 2014 NRA Convention for $33,000! His work also appeared in the NRA's prestigious Ring of Freedom Magazine, which ran an extensive article on Jerry, his knives and White River Knife & Tool.
Why so special? Well, the entire lightweight, one-piece, full-tang knife is constructed of outrageously tough, edge-holding CPM S30V steel at 59 Rockwell C scale hardness. After the soft polish process is completed, the blade is sharpened to a razor edge, then further finished by hand leather stropping.
White River's ergonomically-designed handle uses epoxy and stainless steel pins to attach the O.D. handle scales of G10 material, an incredibly tough, continuous-weave glass fabric laminate impregnated with an epoxy resin that, unlike many handle materials, is impervious to solvents, oil, water, blood, etc.
A unique bellied spine blade design permits index finger extension over the top of the blade and aids in precise trophy caping. The balance of the blade and its design is ideal for dressing and skinning animals of all sizes and is tough enough to cut through the pelvic area of elk-sized animals.
This new, almost completely custom knife is built at the White River factory in Michigan and constructed exclusively of American-made materials, including its custom sheaths, which are cut from U.S.-sourced premium cow hide.
Specifications:
Overall length: 8.25 inches
Blade length: 3.6 inches
Blade thickness: 1/8 inch
Blade steel: CPM S30V
Hardness: Rockwell 59 C
Blade finish: Stone wash/light polish
Handle: Olive drab G10
Knife weight: 4.8 ounces
MSRP: $220.00
White River Knife & Tool
130 Mason Drive Coopersville, MI 49404 616-997-0026