Tom Conroy gives his suggestion on the top five Remington 870 Accessories. The Remington Model 870 shotgun has been around since 1951 – the same year widespread color TV broadcasts started inside the U.S.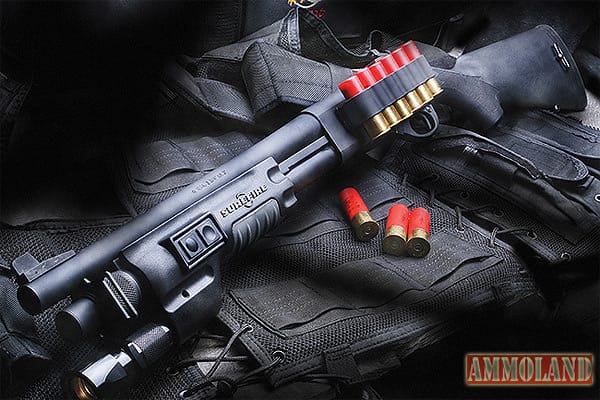 Midwest – -(Ammoland.com)-  In the intervening 63 years, Remington has cranked out more than 10 million Model 870s, and they've been used everywhere from the trap range to the battlefield.
Because shotguns can be used in so many ways, an entire industry has arisen to make accessories, accouterments and doo-dads to help you customize, modify and otherwise trick out your scattergun.
How on earth do you begin to make sense of all that, and start to narrow down what's really useful for your 870?
First, you have to decide how you wish to use your particular shotgun. Will it be your versatile hunting gun for everything from birds to deer? Will it be your competition trap gun, or maybe your home defense gun? Once you know the main purpose, it will help you determine which accessories will be appropriate.
Of course, the great thing about the Remington 870 is that you can easily swap the gun from one role to the other with just a few simple tools in hardly any time at all.
I've compiled a list of the Top 5 Accessories for Remington 870s. I've arranged it in ascending order of most bang for your proverbial buck. If you can afford only one addition to your shotgun, go with #1 first, then #2, and so on. If you think me or my list is out of whack, let me know in the comments below.
Top 5 Remington 870 Accessories

5. Alternate Stock Set
It's easy to change the furniture on an 870. As this video from Brownells shows, the only specialized tool you need, besides a pair of screwdrivers, is a forend wrench to loosen and tighten the forend nut. Once you have that wrench or know a buddy who does, you can swap out forends in just minutes, and reconfigure your shotgun for a completely different purpose.
You can put on an adjustable comb stock for clay sports, or stock with a pistol grip for tactical or defensive use. You can install a shorty stock to teach a youngster how to shoot or switch to a Monte Carlo style to help align your eye with a shotgun scope for slug hunting. Cavalry Manufacturing makes a stock that mimics the ergonomics of the AR-15.
You can change stock colors from basic black to various camo patterns, even blaze orange if you want. There are smooth forends, ribbed forends, railed forends, even tactical forends with integral weapon lights. There is almost no limit to the combinations of stocks and forends you can come up with for a Remington 870.
4. Extra Ammo Carrier
One of the biggest limitations with any shotgun is the amount of ammo you can easily carry for the gun. While not as big a concern for deer hunting, having extra ammo handy can be very important for defensive use, shotgun sports, and even high-volume hunting situations like shooting nuisance pigeons.
One common way to put extra ammo on your shotgun is a sidesaddle shotshell carrier, like those from Mesa Tactical . These typically attach to the receiver somehow and let you carry up to six additional shotshells within easy reach.
If you don't want to weigh down your trap or skeet gun with a shotshell carrier, you can always belt on an ammo dump pouch .  It's an easy way to carry a whole box of shells.
3. Optics & Sights
Optics on rifles have become almost standard, so much that even the Army and Marine Corps issue rifles with optics to front-line troops. More shooters are also putting them on shotguns. For years, slug hunters have relied on shotgun-specific scopes. Red dots are showing up on shotguns in action sports like 3-Gun, and there are even some optics designed for wing shooting, like the Burris Speedbead .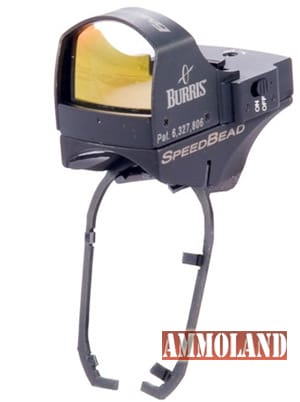 The tough part is getting optics onto a smooth shotgun receiver not originally designed for them. Several companies make optics rails designed to fit atop the receiver or attach via trigger group pin holes. Mesa Tactical has a setup that combines a Picatinny rail with a built-in shell carrier , to combine optic mounting with extra ammo capacity.
With a low-profile receiver rail, you could install an optic for deer hunting, and then remove it for wing shooting.
For those who don't want an actual optic, rifle sights or ghost ring sights are another way to enhance the performance of your shotgun. But there are even more flexible options available for sights with an 870, which I'll cover later.
2. Extended Magazine Tube
Adding an extended magazine tube is the most low-profile way to add extra ammo capacity to your shotgun. The design of the 870 makes it incredibly easy to add a longer mag tube. Just unscrew the cap of the factory magazine, remove the short spring, replace it with a long spring, and screw on the extension.
Many 870s have two little dimples on the inside of factory mag tubes that will prevent shells from feeding into an extended mag tube. You can drill these dimples out with a ¼" drill bit, grind them using a Dremel, or even use a C-clamp and nuts, bolts and hose connectors to press them flat.
Once you've taken care of the dimples, you can change the magazine capacity of your shotgun in mere minutes. Put on the longer tube for competition or home defense. Switch back to the original factory mag tube for duck season. You can get short tubes that add only one or two extra rounds, or real monsters, like the one from Nordic Components that adds nine more rounds.
If money is no object, and you're not looking for low profile or light weight, there's always the X-rail ( goo.gl/z1lTUs ), that can add up to 23 more shots to your 870. Talk about firepower.
When you add an extended mag tube, always remember that you will also need some sort of clamp to connect the tube to the barrel. The clamp provides support to keep the tube from bending, or even breaking off while firing, which would be a negative outcome, indeed. Barrel Clamps ( goo.gl/UpGueL ) are relatively inexpensive, but necessary if you want an extended mag tube.
1.Extra 870 Shotgun Barrels
If you can't spend lots of extra money – or just don't want to – and aren't interested in changing the stock, carrying extra ammo, adding an optic or a mag tube, buy one extra barrel for your Remington 870 . It will more than pay for itself over the long run.
Make sure to get a barrel different from the one that came with your shotgun. For example, I bought a plain-Jane Remmie with the standard 26-inch vent rib barrel. I greatly expanded its capabilities with an 18-inch barrel. The best part was I got the extra barrel cheap from a local gun store because somebody else ordered it, but never bothered to come pick it up.  Without changing anything else, I can convert my 870 from dove or pheasant season to deer season or self-defense in about 45 seconds by swapping out the barrels.
Remember when I said there were other, more flexible iron sight options for your 870 if you don't want to mess with optics rails? My extra 18-inch barrel came with rifle sights already installed on it. How's that for simple?
To change Remington 870 barrels, all you have to do is unscrew the factory magazine cap, slide off the barrel, slide on the next barrel, and screw the mag cap back on. That's it. You can get long barrels with vent ribs and double beads for trap, rifled barrels for sabot slugs, barrels with built-in cantilever scope mounts, even tactical barrels with "breacher" muzzles for blasting doors off hinges. And all of them are snap to put onto your shotgun.
If you get a barrel threaded to accept screw-in chokes, it adds even more versatility. Want to shoot fast-moving targets up close? Screw in a cylinder choke. Need to put a lot of pellets into a small area at 45 yards? Screw in an extra-full turkey choke.
Get The Most Out Of Your Shotgun
There's not much you can't do with a good shotgun. And the rugged, trusty Remington 870 is a classic. By learning a few tricks and tweaks, and getting some extra parts, you can greatly expand the capabilities of this reliable pump gun.
Thomas Conroy is a firearms aficionado and writer who lives in the Midwest.