Win a $10,000 prize package including a P320, trip to SHOT Show 2015, SIG MCX and SIG MPX.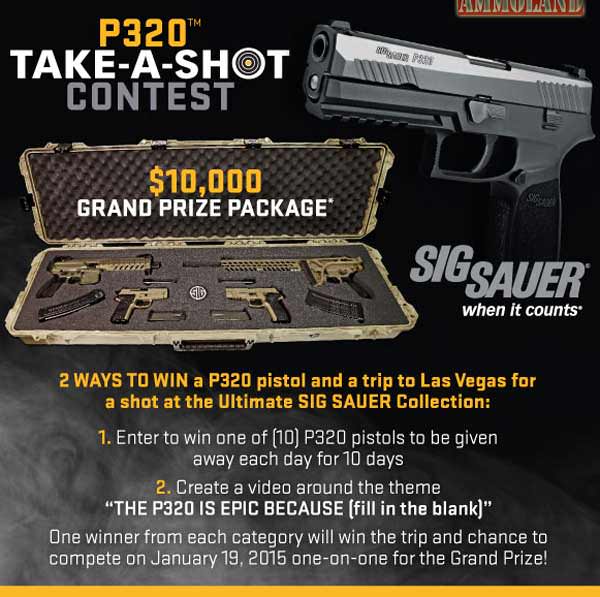 EXETER, NH –-(Ammoland.com)- SIG SAUER, Inc., wants you to "Take a SHOT" at winning one of (20) P320 Carry pistols, which will also give two lucky semi-finalists a trip to SHOT SHOW 2015 to compete at the SIG SAUER VIP Range Day for the Ultimate SIG SAUER Collection of firearms and accessories, including the brand-new SIG MCX and a SIG MPX.
The total prize package is valued at $10,000! There are two ways to enter to win on www.sigsauer.com:
Sweepstakes
Starting today, enter the P320 Take-a-SHOT Sweepstakes for a chance to win one of (10) P320 pistols. One pistol will be given away at random for 10 business days at 3:20pm from December 1, 2014 through December 12, 2014. From these ten winners, a semifinalist will be chosen at random to win the trip to SHOT Show 2015 in Las Vegas and compete at the SIG SAUER VIP Range Day for the Ultimate Grand Prize Package.
Video Contest
Starting today and running through November 30, 2014, fans can submit a creative video with the theme "The P320 is Epic Because (fill in the blank)". From these videos, SIG SAUER will select the ten best videos and send a P320 pistol to the 10 winning contestants.
The top 10 videos will be posted on December 5th 2014, and voted on by SIG SAUER fans thorugh December 22nd. The contestant whose video receives the most number of votes will be the second semifinalist to win the trip to SHOT Show 2015 in Las Vegas and compete at the SIG SAUER VIP Range Day for the Ultimate Grand Prize Package.
The two semifinalists will then compete in a series of shoot-off challenges at the SIG SAUER VIP Range Day, with the winner taking home the grand prize Ultimate SIG SAUER Collection: a SIG MPX-P with a Pistol Stabilizing Brace in 9mm, a SIG MCX in 300BLK, an M11-A1 Flat Dark Earth pistol, an MK25 Flat Dark Earth pistol, a P226 Threaded Barrel and an M11-A1 Threaded Barrel. But that's not all. These guns need to be fed, so SIG SAUER will throw in a case of SIG V-Crown Elite Performance 9mm JHP and Elite Performance 300BLK rifle ammunition, plus additional SIG MCX and SIG MPX magazines.
A custom Pelican case keeps it all together, and a SIG SAUER PVC patch lets you show your pride every day.
Fans can enter via both methods to double their chances at winning. For complete rules and regulations, please visit www.sigsauer.com.
Follow SIG SAUER on social media, including Facebook at www.facebook.com/sigsauerinc, Instagram at www.instagram.com/sigsauerinc, and YouTube at https://www.youtube.com/user/sigsauerinc.
About SIG SAUER, Inc.
SIG SAUER, Inc. is a New Hampshire-based weapons systems provider leading the industry in American innovation, ingenuity and manufacturing. SIG SAUER® brings a dedication to superior quality, ultimate reliability and unmatched performance that has made it the brand of choice among responsible citizens, and  many of the world's most elite military, government and law enforcement units. As a complete systems provider, SIG SAUER offers a full array of products to meet any mission parameter, from handguns and rifles to silencers, optics, ammunition, accessories, and airguns. The largest member of a worldwide business group of firearms manufacturers that includes SIG SAUER GmbH & Co. KG in Germany and Swiss Arms AG in Switzerland, SIG SAUER is an ISO 9001: 2008 certified company with more than 700 employees. For more information on SIG SAUER, any of its products, or the SIG SAUER AcademySM, log on to www.sigsauer.com.