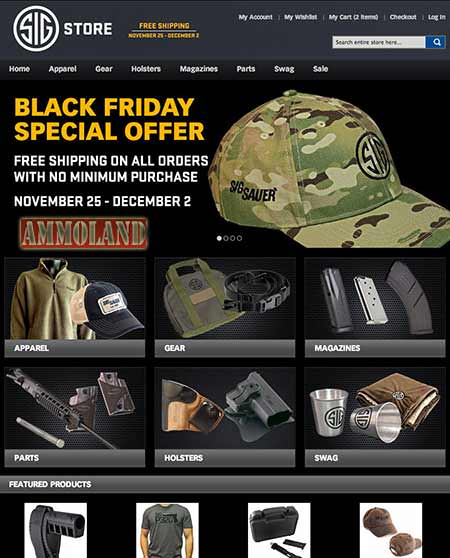 Newington, NH -(Ammoland.com)- SIG SAUER, Inc., has launched a redesigned, feature-laden new web store, just in time for SIG SAUER fans to get their holiday shopping started.
To celebrate the launch, SIG SAUER is offering free shipping on all orders placed between Nov. 25 and December 2, 2014. Shopping for your SIG SAUER apparel, parts, magazines, and other branded merchandise has never been easier.
The new SIG Store features an advanced search function, with filtering options that allows shoppers to find products by firearm type, specific gun model, caliber, apparel type, color, size, price and several other options. New product pages offer multiple images and the ability to zoom in on product details. From there, shoppers can put items into a wish list, which they can then send to friends and family. New email alerts notify users when out-of-stock items are available.
An enhanced account management system lets customers track their items, see their recent orders, and view some of the best selling items. Those who live in restrictive states can filter their store purchases to view only the products that are legal in their state.
In addition to the enhanced web features, SIG SAUER has added a variety of new items as well. New T-shirts celebrate the new SIG MCX and the "Live Free or Die" spirit of New Hampshire. In response to customer feedback, SIG SAUER has expanded its apparel options to include sizes up to 3XL.
A new swag category offers SIG SAUER fans SIG-branded merchandise, including gun mats, clocks, and drinkware, to help with rounding out their gun room, man cave or office. In all, more than 200 new items and accessories (grips, barrels, holsters, etc.) have been added to the SIG Store.
Follow SIG SAUER on social media, including Facebook, Instagram, and YouTube. The SIG Store can be accessed at store.sigsauer.com.
About SIG SAUER, Inc.
SIG SAUER, Inc. is a New Hampshire-based weapons systems provider leading the industry in American innovation, ingenuity, and manufacturing. SIG SAUER brings a dedication to superior quality, ultimate reliability, and unmatched performance that has made it the brand of choice among responsible citizens, and many of the world's most elite military, government, and law enforcement units. As a complete systems provider, SIG SAUER offers a full array of products to meet any mission parameter, from handguns and rifles to silencers, optics, ammunition, accessories, and airguns. The largest member of a worldwide business group of firearms manufacturers that includes SIG SAUER GmbH & Co. KG in Germany and Swiss Arms AG in Switzerland, SIG SAUER is an ISO 9001: 2008 certified company with more than 700 employees. For more information on SIG SAUER, any of its products, or the SIG SAUER Academy, log on to www.sigsauer.com.