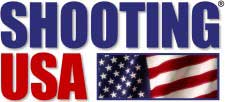 USA – -(Ammoland.com)- Shooting USA – The USPSA Handgun Nationals 2014
The top pistol shooters run and gun in unpredictable Utah weather at the USPSA Handgun Nationals. Plus, the Civil War sniper rifle, the Confederate Whitworth, is one of History's Guns.
And then it's action at the Whittington Center in the Rocky Mountain 3-Gun challenge.
Shooting USA's Impossible Shots – Long Range Armor
Smith & Wesson Shooting Team Captain, Julie Golob is ranging out. She's using the compact M&P Shield for shots one football field away, and maybe even farther! Plus, Cowboy Fast Draw World Champion, Cisko, is fanning for speed, while tracking targets in the air.
AIR TIMES BY TIME ZONE
The Shooting USA Hour Wednesdays:
Eastern Time: 3:30PM, 9:00PM, 12:00 Midnight
Central Time: 2:30 PM, 8:00 PM, 11:00 PM
Mountain Time: 1:30 PM, 7:00 PM, 10:00 PM
Pacific Time: 12:30PM, 6:00 PM, 9:00 PM

Shooting USA is listed as a one-hour show in your cable menu.
Shooting USA's Impossible Shots
Eastern Time: 11:00 AM, 7:00 PM, 2:00AM Thurs
Central Time: 10:00 AM, 6:00 PM, 1:00AM Thurs
Mountain Time: 9:00 AM, 5:00 PM, 12:00AM
Pacific Time: 8:00 AM, 4:00 PM, 11:00PM
Impossible Shots at Ft. Benning
Mike and the crew head to Ft. Benning where Sgt. Josh Richmond will attempt an "Impossible Shot" mimicking the late, great exhibition shooter, Herb Parsons. Plus, we meet with the Army Marksmanship Unit to pick up a tip or two on rifle barrel twist rates. Stay tuned!
Follow the Action
Be sure to "Like" the Shooting USA Show Page on Facebook to be in touch with what we're doing on TV and behind the scenes:
https://www.facebook.com/JimScoutten.ShootingUSA
Jim
Defending the 2nd by Example in the 21st Year
www.ShootingUSA.com