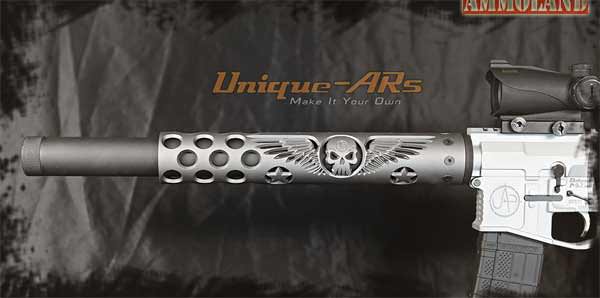 McCall, Idaho –-(Ammoland.com)- Changing markets and shifting demographics are moving the "black gun" market away from the traditional shooters.
Unique-ARs (UAR) is leading the way in this market shift. The next generation of shooters, who are coming of age, combined with the many women who are joining the ranks of shooters are taking a larger market share.
Unique-ARs' handguards speak to this growing demographics' desire to accessories, personalize and customize. Unique-ARs ability to create a designer handguard with custom colors shows that what was once just a "black gun" can become the new "tacticamo" or the "Pink Betsy."
Unique-ARs, the premiere manufacturer of designer handguards, works with companies who desire their own private label handguards emblazoned with their company's logo and unique design. Companies can also be set up as Dealers bringing UAR's stock handguards into their store with point of purchase displays and wide selection of stock designs. UAR also offers the consumer the option to work with our design team to create a custom design for their own handguard or to select from a wide variety of designs from the UAR stock portfolio.      
Unique-AR handguards do not compromise function for form. They are all free floating, made from durable 6061 t6 aluminum, and come with options to mount rails for accessories. The stock handguards come standard in black, either Cerakote or Anodized.
They, also, offer a wide range of custom color options through Cerakote or Anodizing. The stock handguards come in standard lengths of 7, 9, 12, and 15 inches. Custom handguard lengths are up to 20 inches. Each hand guard comes with a proprietary AR-15 barrel nut which can be upgraded to the 308. UAR has the ability to manufacture from single one-offs and as many as 1000+ per month. 
"Our design process is simple" said Mike Carpenter, UAR co-owner.  "Just provide us with your design and/or concept and our design department will draft up a virtual sample for you to take a look at.  Customers can add custom colors, use their favorite approved logo, tattoo, or insignia or have them fabricate a completely custom handguard from scratch. 

"You create it, we make it. The sky is the limit" says Mike.  UARs products and services are all inclusive for an affordable set price. 
Unique-ARs will be showcasing several of their vendors rifle builds at SHOT Show this year:  Offhand Gear, Dragon Fire Armory, Conquest Arms, Orion Tactical and PT Gunworks.  The private label program has also attracted new contracts with police departments and many 3-gun competitors.
Unique-ARs is a family owned and operated company that has a passion for the unique and artistic side of machining. 
Jim Corbet, UAR founder, says "Our dedication to perfection drives us to produce products that anyone would be proud to own and provides a fantastic opportunity for dealers to up sell and set them apart from others and to provide exceptional customer service." 
Their 2015 product line has been expanded to include more custom color options, demographic specific designs, full upper assemblies, and soon, complete rifles with the option to customize lower receivers. They have also emphasized clean looking stock designs that fit the tactical aesthetic and functional accessories such as QD's. 
Visit them at 2015 Shot Show, booth #3564. 
About Unique-ARs
Unique-ARs,  A team of designers, machinists and marketers that manufacture and fabricate custom proprietary free floating handguards, parts and accessories for the AR platform. Global headquarters are based in McCall Idaho.  For more information on Unique-ARs , call 1-208-550-8386 or visit www.unique-ars.com