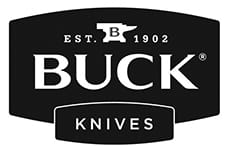 Big Lake, MI -(Ammoland.com)- Designed by a SEAL for SEALS, the 245 Matt Would Go knife is a nearly indestructible tool, built for the roughest of circumstances.
Special Warfare Operator First Class (SEAL) Matthew J. Leathers was a highly decorated combat veteran with numerous awards, including the Bronze Star, Navy and Marine Corps Commendation Medal, Afghanistan Campaign Medal, Iraq Campaign Medal and Global War on Terrorism Expeditionary Medal. In 2013 Leathers was lost at sea during open ocean training exercises. During his nine years with the U.S Navy SEALS, Leathers designed a knife that held up to his high standards and caught the eye of his fellow SEALS.
Buck Knives has entered into agreement with Tim Leathers, father of fallen Navy SEAL Matthew Leathers, to continue making a knife that was originally designed by Leathers himself. Buck is honored to make this knife and help bring this symbol of strength and courage to the market. A percentage of net sales benefit Tim Leathers' company, the MattWouldGo LLC, which in turn donates to the Navy SEAL Foundation. MattWouldGo LLC is Tim's tribute to the dauntless courage of his son and his fellow SEALS around the globe.
The naming of the knife "Matt Would Go" comes from Leathers' courage and unflinching devotion to duty. When the chips were down, the team could always count on Leathers. No matter how perilous the job or daunting the challenge, Leathers would be the first to step up. When he was lost at sea, the phrase, "Matt Would Go," was coined by the leadership of Seal Delivery Vehicle Team One in recognition of his courage and selflessness. The knife model number 245 is a tribute to Leathers' SEAL team class, as he graduated with Basic Underwater Demolition/SEAL Training Class 245.
Originally made using steel from a coil spring scrounged out of a scrapped Humvee and ingeniously tempered using an old mailbox, the 245 Matt Would Go is now constructed of 5160 steel and custom multi-color Micarta handles. The 245 Matt Would Go comes with a textured Kydex sheath with TEK-LOK belt clip. Proudly Made in the USA. MSRP: $245.
For more information on the Navy SEAL Foundation visit www.navysealfoundation.org
About Buck Knives
Behind every Buck knife is over 110 years of experience and craftsmanship. We use the very best materials and state-of-the-art technology to create knives that meet the exacting demands you would expect of a high quality knife. We guarantee our knives with our Forever Warranty, because we believe in the integrity of our products. In addition to the large selection of knives available, our Custom Knife Shop allows our customers to customize a variety of knives in order to meet their exact needs. Whether you are purchasing a knife designed and engineered by Buck, or creating a masterpiece of your own, one thing is certain – behind every Buck knife is a memory. For more information, please visit www.buckknives.com.