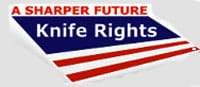 Gilbert, AZ –-(Ammoland.com)- The New Year's catch of the day at an Illinois sushi restaurant was a would-be robber who decided that a chef wielding a sharp sushi knife trumped his pellet gun.
Clayton Dial of Ogden was arrested on charges of aggravated robbery, intimidation and aggravated battery after police say he tried to hold up the Kamakura Japanese restaurant in Champaign, IL.
According to the article in the (Champaign) News-Gazette, Dial walked into the restaurant, pulled a gun out of his waistband and demanded the hostess hand over the money in the cash register. Unfortunately for Dial, chef Tetsuji Miwa was nearby, heard what the robber said and reacted to the fear he saw on the face of the 17-year-old hostess.
"That's when I instantly grabbed my sushi knife, walked up to him, wrapped my arm around his shoulder and asked him what he wanted," Miwa told the newspaper. "He saw the blade, got scared and started running."

"Tet was halfway out the door. We could see him with the knife," said Niizuma, who said he and Pendzialek instinctively came to the aid of their friend and coworker.

"We didn't have a choice because he was engaged in the fight," Niizuma said.

"Tet's got kids," Pendzialek added.

The employee trio ended up in the parking lot, where they got Dial on the ground and were struggling to control him as he fought back.

Pendzialek said on the way out he grabbed a small stool near the front door "and cracked him over the head with it."

Miwa said he hadn't seen a gun but Niizuma had. Dial still had it in his hand, and Niizuma said that while Pendzialek had Dial in a chokehold, he punched Dial's arm until Dial let go of the gun. Niizuma didn't know then that it was a pellet gun.
Click here to read the entire article.
About:
Knife Rights (www.KnifeRights.org) is America's Grassroots Knife Owners Organization, working towards a Sharper Future for all knife owners. Knife Rights is dedicated to providing knife owners an effective voice in public policy. Become a Knife Rights member and make a contribution to support the fight for your knife rights. Visit www.kniferights.org