Mention the word hand gun or firearms training in public nowadays, you might get a few nervous looks from certain people. But training others appropriately is a key part of life for Matt Mallory, Army Veteran and owner of Public Safety and Education. I talked with Mallory, a life long shooter and proponent of responsible firearms training and an NRA certified instructor, about his keys to training and a few other fun things coming up in the near future.
If you don't love what you do, then it is truly a job. For Mallory, his joy comes from the Lord, and seeing people develop. To take a person with little to no firearms training, to a responsible, ethical and cognizant shooter is not always an easy task. Mallory says, "To see the improvement, the transformation and confidence of a person increase with their training- my reward is in seeing people grow."
As mentioned earlier, Mallory has a cumulative 20 years of training between the armed forces and continuing his own training through NRA programs. With this training, I asked what his take was on a good starter pistol. He was adamant, many people don't always take into consideration the ergonomics of a gun. "The key is to know what you want to use a gun for and match your desires with your skill. But also, make sure the gun feels right for you." Just like finding the right car, finding the right gun for you may not be the biggest caliber, but the one which feels right. Mallory spoke to me on the lack of ballistics consideration. "Many people don't realize you can achieve what you want out of different guns by considering the ballistic capabilities of the different rounds available. But again, it is all about what meets your ability and comfort level with the ergonomics of the gun," Mallory said.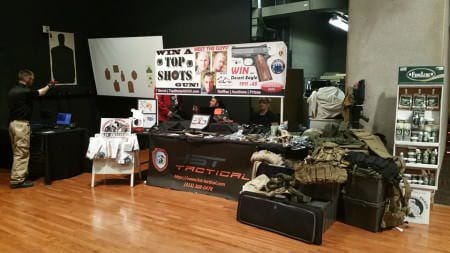 When it comes down to professional training, some people I have talked to ask, "Why should I sign up for classes when I can just spend an afternoon busting caps at the range?"
Mallory was quick to point out, "You learn different mechanics and fundamentals, you are not acustom too. Professional training prepares you and hones your skills by pushing you out of your comfort zone. For example, I began shooting and training for competition. It taught me to react faster and under pressure. In turn, this training helps you make better choices, especially if you find yourself in a self defense situation."
I also asked him what learning curves he can help people along with his handgun courses. He told me, "People don't always know the correct fundamentals of finger control, breathing, and dominate eye. We cover and teach the industry standard of fundamentals."

Now in March of this year, Top Shot contestants from Season Four, Gary Shank, Keith Gibson, and Frank Melloni will join, for one day of handgun instruction and safety courses at the Orange County. When Mallory flew out to Utah in June for further training, he met Gary from Top Shot, the idea was created, and continued to expand.
"It's not often so many of us get together to do some work like this," says Top Shot contestant and instructor Frank Melloni. "As an instructor, I always enjoy working with other instructors as we all have unique ways of teaching and demonstrations skills and tactics. This is extremely beneficial for students, as everybody responds to different approaches of the same material. We are looking forward to letting out some of the trade secrets that we have used to rise through the ranks and find ourselves where we are today. Matt has poured his heart and soul into this, it's bound to be a once in a lifetime event."
For more information and to register, visit www.TopShotsAtOCC.com
or call Public Safety and Education (PS&Ed) at 315-849-2886. www.facebook.com/psanded?ref=hl
About The Author: Jason Reid is an adventure writer and entrepreneur willing seek the unsought. While Bowhunting is his personal passion, he finds interest in adventures and topics which force him out of his comfort zone. Other examples of his work can be seen on pushingthewildlimits.com.