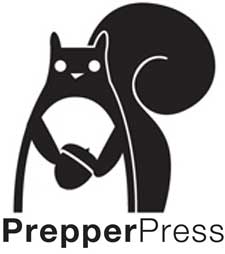 USA – -(Ammoland.com)- Know everything about shotguns? Think again – or maybe you'd like a helpful reference close by.
The second firearms book in Prepper Press's PrepSmart series, Shotguns: A Comprehensive Guide ( tiny.cc/8zmhtx ), covers all gun owners need to know about owning, purchasing, and using shotguns.
Written by experienced NRA-Certified Instructor Steve Markwith, even the smallest specifics such as shotgun parts are zoomed in to close detail with thorough explanations and instructions for application.
Markwith details key requirements for shotguns for preppers looking to purchase, such as widespread use, easy operation, and widely-available parts and ammunition. The author picks up where the first PrepSmart firearms book, Survival Guns: A Beginner's Guide ( tiny.cc/sanhtx ), left off and covers all topics specific to shotguns: cleaning, chokes, barrels, and patterns, how to select a shotgun to fit the reader's wants, needs, and budget, and accessories.
With a logical approach, "no-nonsense" writing, and photographs and anecdotes to compliment the volume, Shotguns is essential for all gun owners, from those new to firearms to experienced enthusiasts eager to learn more or review what they already know.
The guide is bursting with interesting and accurate content that makes it even a "joy to read," but keeps the amount of material manageable and user-friendly. Whatever the reader's experience level, everyone can learn something from experts such as Markwith.
Shotguns: A Comprehensive Guide
Steve Markwith
List $10.95 paperback
Paperback 216 Pages
e-book $6.95
Published by Prepper Press
ISBN 978-1939473219
https://tiny.cc/8zmhtx
About the Author
Steve Markwith holds a life-long interest in all things that shoot. These include rifles, shotguns, revolvers, pistols, airguns, and black-powder guns, plus bows, vertical or horizontal. He began formal training at age 11 during NRA-sanctioned, small-bore target rifle events, and became an active hunter by age 12. He began reloading at age 14, starting with shotgun shells and a handheld Lee-Loader.
Steve joined the U.S. Army, serving two combat tours while acquiring experience on numerous military firearms systems during helicopter and ground-based operations. Returning to civilian shooting, he gained further experience during NRA Bullseye, combat pistol, and shotgun competitions. He became an NRA-Certified Pistol, Rifle & Shotgun Instructor and served as a certifying authority for concealed-carry permit applicants in several states. He joined the firearms industry, working with a gunsmith who was a disciple of the well-known wildcat cartridge designer, PO Ackley.
Eventually, Steve assumed control of all firearms operations for a major state agency, which included training, range operations, and equipment procurement. His credentials include federal, state, and manufacturer's certifications related to various firearms systems and intermediate force technologies. He has 25+ years of full-time firearms training experience and enjoys direct contact with many industry sources.
About Prepper Press
We at Prepper Press are a publisher specializing in dystopian fiction and survival-based nonfiction. Vist our Website www.prepperpress.com