Truly an epic event.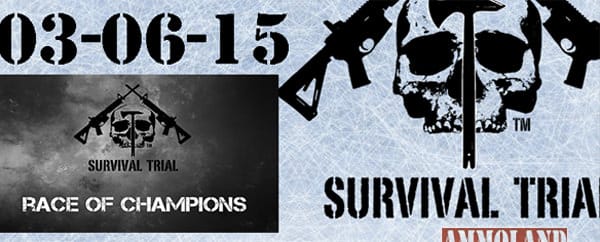 USA – The 2015 STIX: Winterborn Race of Champions lives now in the history books. This Survival Trial brought everyone in the Arena to their absolute limits and life is much different now for everyone who survived the event.
The Race of Champions is the culmination of Survival Trial; only the toughest Competitors from each year's Survival Trial is invited to the event.
There is no registration fee for this race. It is coordinated by Survival Trial's creator, Jon Weiler to give Survival Trial Veterans the opportunity to prove themselves as the 1st Survivor in the Race of Champions.
The 2015 Survival Trial Race of Champions took place during the STIX: Winterborn on March 6-8, 2015 and featured three established Survival Trial Veteran Teams who had proven themselves in multiple Trials in the past.
This epic event led Competitors into a 120 square mile arena with 48 hours to acquire as many points as possible. The Race of Champions began at the southern most portion of the Arena, with the Teams competing directly against each other in a race for the finish line, finishing at the northern most portion of the Arena.
(Click Below for STIX: Winterborn Race of Champions Videos)
The Team with the most points would be awarded the 1st Survivor Golden Tomahawk in the very first Survival Trial Race of Champions.
Here are the final standings:
3rd Survivors:
Team 40.40
2910 points
53.07 miles traveled
2nd Survivors
Team Terra Victor
5600 points
50.30 miles
1st Survivors
Team Rally Caps
8970 points
65.35 miles
Survival Trial is the Ultimate Test. Our goal is to give every Competitor the opportunity to give their all in every Arena that we build.

Next up in the Survival Trial Series: STX: Daybreaker on May 20-22, 2015 at the NRA Whittington Center in NE New Mexico. Team and Solo slots are still available.
Register online here: http://store-survivaltrial-com.3dcartstores.com/STX-Daybreaker–May-22-24-2015_p_14.html
The first of the 2015 Survival Trials is now complete. I would like to congratulate all of the Teams in the STIX: Winterborn RoC, you are all very strong individuals.
Next up is Daybreaker and I hope to see you there.
Good luck on your journey.
Jon Weiler
Creator/Coordinator
Survival Trial
Visit: http://survivaltrial.com/