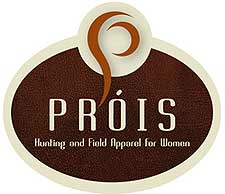 Gunnison, CO -(Ammoland.com)- It's time to go on the once in a lifetime safari you've always dreamt of and it wouldn't be the same without Prois along for the ride.
This is the type of hunt where nothing can be left to chance, so don't get caught in the African bush without the right equipment. Prois wants you to be as comfortable and as prepared as possible, so take a look at the top suggestions for going on safari.
Let's start with the plane ride over. It can be a long and grueling trip to Africa, and by the time you get there, you might be thinking more about finding a chiropractor than your first African species to hunt. Luckily, Prois offers a slight solution to this problem. No, they don't sell chiropractors, but they do sell the "quintessential happy pants," more commonly known as Prois' Adventure pants. These pants will make you feel warm and fuzzy and are certain to help ease the pain of flying.
What's even greater about the Adventure pants, they are also perfect for hunting, sightseeing, and wearing around camp. Constructed of 94% nylon and 6% spandex, the fabric on these "happy pants" is lightweight and stretchable. Elastic drawstring cuffs keep them tight to your boots and deter burrs and thorns. They come in colors olive and stone and are extremely affordable at only $129.99.
The next on Prois' list of versatile items are the popular Ultra shirts, offered in both short sleeve and long sleeve. Like the Adventure pants, Prois' Ultra shirts are equally as comfortable and are great for all aspects of your adventure. They are lightweight, breathable and work great as a layering piece or alone once the temperatures rise. All Ultra shirts are made with moisture wicking polyester fabric and are extremely quiet. They come in Max 1, Realtree AP, and black. Prois suggests reviewing the laws of the country you will be hunting in, as some countries do not allow the use of camouflage.
Africa is known for its extreme temperatures, so a good layering system is a must. Prois' staff suggests the Pro-edition vest and jacket combo, which are great for cold rides on the truck to and from camp. Both are easily stored in a daypack should you need them while stalking game. The Pro-edition jacket and vest are both made with water and wind resistant technology and are lined with Prois' signature nylon tricot for ease of layering and movability. Both feature multiple pockets for storing extra gear, including a spacious lumbar compartment for must have items during a stalk when a backpack might be left behind. These items come in Max 1, Realtree AP, and Mountain Mimicry. Prois suggests Max 1 for hunting in Africa.
Hunting in Africa wouldn't be the same without a leather belt, sling, and cartridge holder. Luckily, Prois offers all three. Made with genuine leather, these items will not disappoint. The "P" emblazoned belt will be perfect for holding a knife, flashlight, and other accessories while the cartridge holder takes care of your extra ammo. Be as comfortable as possible during long hikes through the African bush with the Prois gun sling on your shoulder.
You can get all of these products and more at www.proishunting.com, just look for the Safari Staff Pick logo to easily find the item you want. These featured products are also suggested for other overseas destinations such as New Zealand or Argentina.
Prois was created for women, by women who refuse to settle for downsized men's gear or upsized children's gear. Each garment is created with the most technologically advanced fabrics available and a host of advanced features to provide comfort, silence and durability. The company's out-of-the-box thinking has resulted in amazing designs for serious hunters that have taken the industry by storm and raised the bar for women's outdoor apparel.
To learn more about the company's innovative line of serious, high-performance hunting gear for real women, contact: Prois Hunting and Field Apparel, 28001-B US Highway 50, Gunnison, CO 81230 · (970) 641-3355 · Or visit: www.proishunting.com.
About Próis Hunting & Field Apparel
Próis has garnered a great following of men and women throughout the industry through their wacky shenanigans and humor. Fondly called the Próis Posse, the Próis followers ramp up the craziness each day. Keep up with our lovably wacky team through Facebook, Twitter, Pinterest and LinkedIn. Warning: Próis social media is not for the faint of heart….and "your mom" is not really your mom…it's a metaphorical mom. You can also check out the latest updates on Próis field and pro staff and company news via the Próis blog.
For more information, please visit www.PróisHunting.com.