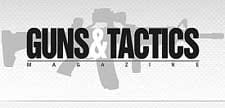 USA – -(Ammoland.com)- Guns & Tactics Magazine, in cooperation with Sig Sauer and Dene Adams, have launched the Sig Sauer & Dene Adams Sweepstakes!
Each week participants will have a chance to win a concealed carry corset from Dene Adams. Finally, one lucky winner will also receive a Sig Sauer P320 Compact pistol.
Sig Sauer P320:
Unlike any other pistol in its class, the P320 features a unique 5-point safety system, standard on all models:

– Striker Safety
– Disconnect Safety
– 3-point Take Down Safety System
– Takedown is prohibited without removal of magazine
– System prohibits takedown without slide locked to the rear
– Rotation of takedown lever allows disassembly without tools or trigger manipulation.

The unique modular design of the P320 offers the user the ultimate in flexibility to change calibers, sizes, and fit. Small, medium, and large complete polymer grip modules ensure comfortable and optimal fit for the widest range of hand sizes.
Dene Adams Concealed Carry Corsets:
Dene Adams concealed carry corsets allow you to holster your weapon in a sub-layer of the compression, pulling your weapon snug to your body.

The technology allows for maximum concealment with minimal bulk under a single layer of non-form fitting clothing.
Participants in the sweepstakes are required to be a Guns & Tactics Facebook page fan. However, to be fully eligible to win participants must also "Like" the Dene Adams Official Facebook page and the Sig Sauer Facebook page. By entering the sweepstakes, participants agree to receive marketing communications from Dene Adams and Sig Sauer.
After entering the sweepstakes participants can gain extra entry points (to increase the chance of winning) by sharing the sweepstakes on social media. Winners will be contacted via email and announced on Facebook on May 8th, 15th, 22nd, and the 29th.
About Sig Sauer
SIG SAUER, Inc. is a New Hampshire-based weapons systems provider leading the industry in American innovation, ingenuity, and manufacturing. SIG SAUER® brings a dedication to superior quality, ultimate reliability, and unmatched performance that has made it the brand of choice among responsible citizens, and many of the world's most elite military, government, and law enforcement units. As a complete systems provider, SIG SAUER offers a full array of products to meet any mission parameter, from handguns and rifles to silencers, optics, ammunition, accessories, and airguns. The largest member of a worldwide business group of firearms manufacturers that includes SIG SAUER GmbH & Co. KG in Germany and Swiss Arms AG in Switzerland, SIG SAUER is an ISO 9001: 2008 certified company with more than 900 employees. For more information on SIG SAUER, any of its products, or the SIG SAUER AcademySM, log on to https://www.sigsauer.com.
About Dene Adams
Dene Adams was founded on the legacy and principles of Anna's grandfather. Dene Adams was a man of strong American tradition, Christian values and was an advocate for common sense. Grandpa Dene believed that "There is no such thing as a gun accident. Guns should be respected and not feared & when treated with respect, guns can be an integral part of our daily life."
It was this passion in Dene Adams that led to the creation of the compression concealed carry holster for women. The innovation and design efforts of our compression holsters allow women to carry without a change in wardrobe. View the collection at https://www.deneadams.com.
About Guns & Tactics
Guns & Tactics Magazine is a website destination featuring photos, videos and articles about all things guns and tactics. We're an online magazine experience for the gun culture. Veteran Owned and Second Amendment Supporters. Visit https://www.gunsandtactics.com.