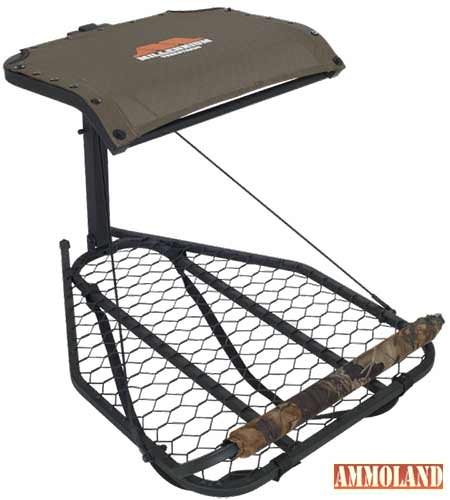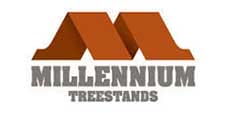 Pearl, MI -(AmmoLand.com)- Good hang-on stands are a key component in any serious hunter's toolbox. Hunters shoot most of those giant bucks you see on television from hang-on stands.
Selecting the right stand is key, and you can't go wrong with a Millennium M50 Hang-On Stand. The new M50 offers a great combination of comfort, durability and all the terrific Millennium features that make them top-rated stands.
The M50 Hang-On Stand has a capacity of 300 pounds and a roomy platform that is 24 inches wide and 33 inches deep. With a seat size of 20 inches by 16 inches and a seat height of 21 inches, the M50 Hang-On Stand offers plenty of room and comfort for even an all-day hunt. The exclusive patented comfortMAX seat features a tight, lightweight, poly tech sling-seat construction that provides hours of comfort. Made with durable, no-stretch fabric, the seat of your Millennium M50 doesn't absorb water or scent, and most importantly, it is quiet.
The Millennium M50 Hang-On Stand is perfect any hunting situation. A foldable design and weight of just 20 pounds mean it is easy to get the Millennium M50 deep in the woods with no problem. Setup is quiet and easy with Millennium's exclusive, patented camLOCK Receiver system. Lock the stand into position in seconds by simply securing the camLOCK Receiver to the tree. Then just hoist up the M50 Hang-On stand and slide the stand's aluminum stabilizing post into the camLOCK Receiver. The M50 comes standard with a camLOCK Ratchet Strap Receiver.
Once you have the M50 up in the perfect tree, setting it up is quick and easy using the Millennium interlock LEVELING System. The seat and platform level out individually to fit a multitude of angles. No tools are needed, and the stand levels in seconds.
Millennium thought of everything to keep stands quiet yet functional during the hunt. Equipped stands have features designed so most metal-to-metal contacts have been eliminated or dampened. Your Millennium M50 Hang-On Stand can be optimized for bowhunting by adding the M600 bow holder.
Features of the Millennium M50 include:
* steel TOUGH construction
* Durable powder coat finish
* Comfortable, quiet, easy setup
* Exclusive, patented comfortMAX contoured, tight sling seat
* Seat folds up for standing shots
* Easily folds flat for backpacking
* Full body harness certified to TMA standards
* interlock LEVELING System
* Footrest included
* Certified to TMA standards
Millennium M50 Hang-On SPECS
Material: STEEL
Capacity: 300 lbs.
Weight: 20 lbs.
Platform: W 24″ D 33″
Seat Size: W 20″ D 16″
Seat Height: 21″
Millennium stands are designed to be the best compromise of weight, quietness, strength, security and comfort. The Millennium M50 fits the bill perfectly and retails for just $149.95.
For more information on the Millennium M50 Hang-On Stand, visit http://www.millenniumstands.com/products/m50-hang-on.
About Millennium Treestands
Millennium Treestands have long been recognized as the most quiet and comfortable stands on the market. Every angle, hinge and weld has been tested under the most extreme conditions by the most cynical and scrutinizing hunters.
For more information, please visit www.MillenniumStands.com.