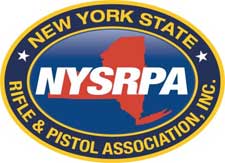 New York –-(Ammoland.com)- Democratic Senate candidate Barbara Fiala in a radio interview on Tuesday declined to take a position on the 2013 gun control law known as the SAFE Act, saying she still has more research to do on the measure.
Fiala is expected to launch her bid for former Sen. Tom Libous's seat on Thursday after he was ousted following a conviction on a charge of lying to the FBI.
Fiala, a former Broome County executive and was a member of Gov. Andrew Cuomo's administration until last year, acknowledged the gun control law is a controversial one.
"Well, you know, the SAFE Act has to be looked at," Fiala said on The Capitol Pressroom. "What parts of the SAFE Act are objectionable to many, is it background checks — this is something that I'll have to take a strong look at. I know it's controversial."

She added: "That's something I'm going to have to do more research on."
The New York State Rifle & Pistol Association would like to comment on Barbara Fiala's refusal to state her positon on the SAFE Act.
"It is not necessary for Barbara Fiala to take a public position on the so-called SAFE Act as we already know what her position on the issue of guns is," NYSRPA Vice President Jacob Rieper stated.

"In a press release by Mayors Against Illegal Guns dated April 8, 2008, Barabara Fiala is listed as a member of County Executives Against Illegal Guns, an organization whose goal is to prohibit the private ownership of common firearms. We intend to inform our constituents in the Southern Tier of Fiala's association with that group."