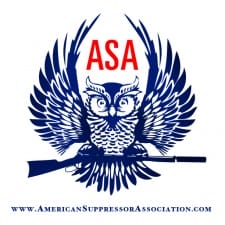 ATLANTA, GA – The American Suppressor Association (ASA) is pleased to announce that Silencer Shop and SilencerCo have both added an ASA Donation option to the checkout section of their websites. Originally launched by SilencerCo in February, 2015, Silencer Shop added the option to their website in early August.
Inspired by the popular "NRA Round-Up" program, both companies give customers the opportunity to add a voluntary donation to the ASA during the checkout process. Already, support from their customers has helped raise thousands of dollars for the non-profit association.
"It just makes sense to ask our customers to give a little," said Josh Waldron, CEO of SilencerCo. "The things the ASA has accomplished to expand and protect our rights is incredible, but the fight is only beginning. I ask other industry partners to follow suit."
Shortly after SilencerCo launched the donation option on their website, Silencer Shop began developing a similar platform for its customers to contribute. All of the money raised on these platforms goes directly towards funding the ASA's efforts to advance pro-suppressor reform.
"Our advocacy efforts are directly tied to our ability to raise funds to travel, advocate for, and engage in pro-suppressor outreach efforts," said Knox Williams, President and Executive Director of ASA. "The level of support that we have seen from consumers who are graciously donating their hard earned cash to help fund our work has been inspiring. It is pushing us to work harder than ever. We hope that more of the industry will follow in the footsteps of SilencerCo and Silencer Shop by offering a donation option on their websites."
Based in Austin, Texas, Silencer Shop is a nationwide dealer of firearm suppressors. To learn more about Silencer Shop, visit them online at www.SilencerShop.com. SilencerCo an industry leading manufacturer of firearm suppressors, ammunition, and accessories based in West Valley City, Utah. To learn more about SilencerCo, visit them online at www.SilencerCo.com.
ABOUT THE AMERICAN SUPPRESSOR ASSOCIATION
The American Suppressor Association (ASA) is the unified voice of the suppressor industry. Our mission is to unite and advocate for the common interests of suppressor manufacturers, distribu¬tors, dealers, and consumers. To accomplish our mission, our principal initiatives focus on state lobbying, federal lobbying, public education, and industry research.
The ability of the American Suppressor Association to operate and advocate for pro-suppressor reform is tied directly to our ability to fundraise. In 2014, 11 pro suppressor laws and regulations were enacted. With your help, we can make 2015 even better. For more information on ASA memberships, please visit us at www.ASAMember.com, or www.AmericanSuppressorAssociation.com.