Universal Background Checks – A Long Term Threat To Our Liberty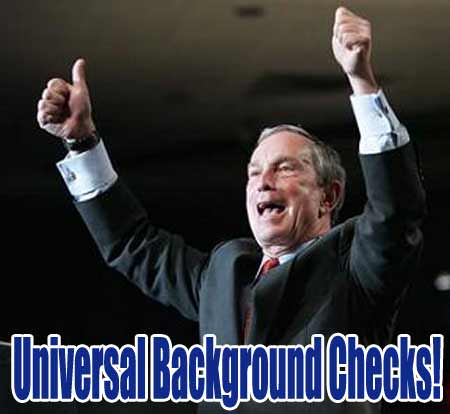 Covington VA –-(Ammoland.com)- Gun-grabbers are pushing hard to get what they call "Universal Background Check" (UBC) legislation passed at the state level. They have recently been successful in Washington State and Oregon.
Universal Background Checks (UBC) are where all gun sales, including private sales, must be run through a government background-check system.
While that seems innocent enough, it isn't.
You will no longer be able to sell a gun at will to a relative, friend, or acquaintance in your living room, a parking lot, or anywhere else, except in a gun dealer's business location during normal business hours, after you pay a fee and fill out paperwork. Oh, and a gun dealer can choose not to handle private sales at all!
In Washington State, under their new Universal Background Check law, a gun owner can't loan someone a gun at a range without both persons going through a background check!
Universal Background Check legislation poses a very real threat to our right to keep and bear arms and, ultimately, to our liberty itself. Your ability to sell your guns will become cumbersome and more expensive. Worse, UBC laws will lead to gun registration schemes as a means of enforcement, home "compliance inspections" to ensure that those registration schemes have been followed, and, finally, confiscation (which has already occurred in other states).
The antis couch Universal Background Check laws as being "common sense" and as closing a "loophole used by criminals to get guns." Those who take that on face value and who don't realize the full implications, including many gun owners who too often agree.
Of course criminals can easily get around any background check by simply stealing them, buying them wher they buy their drugs or getting someone else to buy the gun for them (called a straw purchase).
Millions of dollars were poured into advertising in both Washington State and Oregon, by people like Michael Bloomberg and Bill Gates (Microsoft owner), to trick the population into supporting Universal Background Checks and, sadly, it worked.
(The antis in Washington State, lying as usual, bragged that the overwhelming majority of people in Washington wanted UBC laws. If that was so, why did they waste so many millions of dollars on a vast advertising campaign?)
GUN HATERS HAVE BEEN TRYING TO BRING UBC LAWS TO VIRGINIA FOR THE LAST THREE YEARS OR SO
The good news is:
While there have been many UBC bills introduced in the General Assembly, VCDL has been able to soundly defeat all of them so far.
SO FAR, no serious money from people like Michael Bloomberg has been used to buy television, radio, and newspaper ads in support of UBC bills in Virginia, as has happened in some other states.
Virginia does not have ballot initiatives like Washington State and some other states. Such initiatives allow an anti-gun media coupled with big money interests (Bloomberg, et al) to mislead the populace into overriding the state's legislators and forcing passage of UBC laws.
The bad news is that Virginia is in the crosshairs and the attacks here will begin in earnest at some point and we need to prepare now if we are to prevail.
THE BEST TIME TO STOP A FIRE IS WHEN IT IS SMALL, NOT WAIT UNTIL YOUR HOUSE IS ENGULFED IN FLAMES
Right now, time is on our side. That is not so for some of our brethren in other states.
Virginia Citizens Defense League needs YOU to start educating all of your friends, family, co-workers, neighbors, and anybody else you interact with, be they gun owners or not. Do NOT let any comments about UBCs being acceptable stand unchallenged, including statements made in the media.
I am going to ask that our gun show coordinators pass out copies of the flyer, below, at all gun shows to make sure that gun owners, of all people, understand what is at stake.
Working together, NOW, to educate people, will allow us to stand strong and prevail on this issue.
To download the flyer, click here:
https://www.vcdl.org/sites/default/files/UBC_Flyer.pdf
The Dangers of Universal Background Checks
About:
Virginia Citizens Defense League, Inc. (VCDL). VCDL is an all-volunteer, non-partisan grassroots organization dedicated to defending the human rights of all Virginians. The Right to Keep and Bear Arms is a fundamental human right. Visit: www.vcdl.org