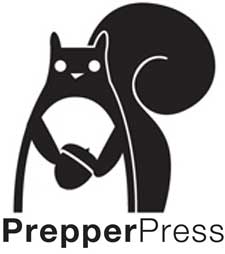 United States -(AmmoLand.com)- After Cooper Adams tells the world the shocking truth about the origin of the catastrophic Brushfire Plague, he faces a series of dire consequences.
Driven from his home by betrayal, he flees with his son and others to a remote hideaway. Their dangerous journey brings them face to face with a desperate world spiraling into collapse and new challenges that cost Cooper dearly. He soon finds himself embroiled in a deadly conflict with a local strongman bent on domination of the local population.
When he strikes a blow for freedom against this petty tyrant, he faces impossible choices in trying to save his son's life – and to protect his innocence. Amidst their daily battle to survive, Cooper is shocked to learn that the Brushfire Plague has new layers of treachery and conspiracy that continue to upend their world. Can Cooper Adams survive the violence, hunger, and a world racing toward Armageddon? What will it take to elude those pursuing him to silence the truth?
Will his son survive and at what cost? How will Cooper resolve the growing tension between two women that offer their own set of impossible choices?
In the end, Cooper faces this reckoning with only a small band of trusted friends, his faith in the truth, and his fading hope that the crumbling world around them can somehow be salvaged.
Buy on – Nook : http://tiny.cc/4ei94x
About the Author:
R.P. Ruggiero lives in Colorado with his wife and two sons. He spends as much time as possible in the outdoors and strives to live by Robert Heinlein's credo that, "Specialization is for insects." When he is not outdoors, writing, or learning a new skill, he helps people achieve common goals. He brings two decades of experience in group dynamics–particularly for people under stress–to good use in writing the Brushfire Plague, a novel grounded in neighbors defending themselves during a devastating plague. Brushfire Plague: Reckoning has now been released! This is Book Two of a planned trilogy.
About Prepper Press:
We are an independent publishing house specializing in dystopian fiction and survival nonfiction, books and information that entertain and serve preppers, those preparing for events that could disrupt life as we know it and threaten survival. Uncertain times in a society heavily reliant on modern technology creates a need for every person to take a few steps toward independence and self-reliance. Should a major societal event happen, whether terrorist attack, plague or natural disaster, average Americans will need the knowledge and skills to help them survive if order fails and chaos ensues. Prepper Press publishes books and information that can help people survive in such situations. All of our authors are based in the United States. All of our books are published and printed in the United States.
For more information, visit: www.PrepperPress.com.