The Mossberg MVP LR-T Tactical Rifle: An in-depth review of a true rifleman's rifle.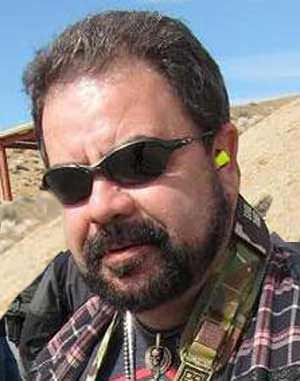 USA -(Ammoland.com)- It was not that long ago when the 223 bolt action rifle was really just an afterthought. Most factory rifles in the caliber were "short actions" designed for use with larger cartridges and the majority of shooters did not seem to mind as they were better served by ARs.
Times change and thankfully Mossberg has kept up with them by building rifles that shooters actually want.
That's right, Mossberg, the shotgun manufacturer has been building rifles for a few years and have really stepped up their game with the Mossberg MVP LR-T Tactical Rifle in 223 Remington/ 5.56 NATO.
This is a bolt action rifle intended for long range use. At first we did not think it would as we are used to thick bull barrels, no iron sights and a much heavier stock on our long range lead throwers, but we took a closer look after playing with it at short to medium range.
Mossberg's MVP LR-T Tactical Rifle rides in an attractive synthetic OD green stock that is pillar bedded to the action. For those not familiar with the term, it means that rather than screwing an action into any old stock and calling it a day, Mossberg makes use of rigid metal inserts that support the action and hold it squared in the stock. This eliminates any play between the action and stock and serves as a foundation for consistency, which is one of the building blocks of rifle accuracy.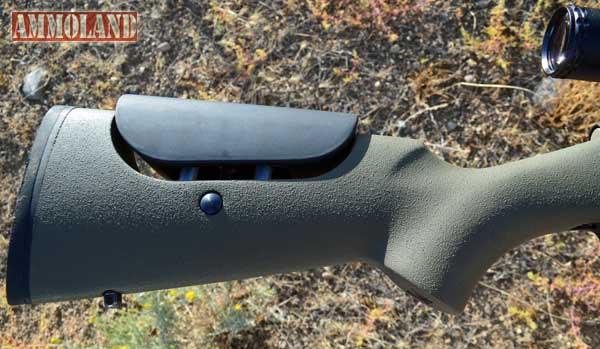 Three sling swivel studs adorn the lower portion of the stock: two for a sling and one for a bipod. We prefer these to the QD sockets that have become popular in recent years for rifle carrying straps or ones that attach via Picatinny or M-Lok. You can actually fit a correct target sling and bipod, both which help in accuracy and are only appreciated by a true rifleman.
A Picatinny mounting rail crowns the top of the receiver to allow use of a scope and if you are looking at this as more of a varmint, bench gun or hunting rifle, that is what you want. The cheek piece is coated in rubber Mossberg calls "Mosscote" and it is adjustable for height.
With varmint and bench rest shooters in mind, Mossberg built what we consider to be the perfect factory bolt handle on the Mossberg MVP LR-T Tactical Rifle. Oversized to allow manipulation while wearing gloves as well as give you enough leverage to slam that bolt home when stripping the first few rounds out of an AR magazine to fight against the mag's spring pressure.
Mossberg MVP LR-T Tactical Rifle Bolt Design
We believe the bolt is the most innovative part of this rifle and whatever Mossberg is paying the engineers who designed this is not enough.
Mossberg has a patented MVP bolt designs that accepts and feed from standard AR-style magazines. For ultimate in flexibility, the 7.62mm NATO models accept both M1A/M14 and AR10-style magazines (LR308/SR25).
As a former resident of a Blue state that restricted semiautomatic rifle possession, the author at one time lusted for a bolt action rifle that would feed from a proper magazine. Unfortunately that technology did not exist 15 years ago and to have a smith perform that type of custom work cost an insane amount of money and the end result was very hit and miss.
The design and innovation that Mossberg put into this part of the action should go down in the history books.
Thankfully they didn't skimp on the machining and looks as the spiral flutes make for a very attractive bolt body!
At first we did not care for having to force the bolt on the first round, but after shooting it more, we adapted and became accustomed to it. The important thing is that Mossberg really made this concept workable.
Mossberg MVP LR-T Tactical Rifle Hits Don't End There, Though.
The heart of any firearm is the trigger and Mossberg's patented LBA (Lightning Bolt Action) trigger is an exceptional out of the box trigger that is completely adjustable between 3 and 7 pounds without any take up. Ours weighed in at 3 lbs consistently and we saw no need to change it.
Moving on to the barrel, the rifling is listed as 1 in 7″, meaning that the bullet will perform almost three complete revolutions before exiting the muzzle. This is crucial for long distance shooting with the 223 round as it allows the use of heavier bullets (Leave the 55 grainers and 62 grain bullets at home if you really want to push this one past 400 yards).
However, you may have to roll your own hand loads if you want to let the heavy bullets fly.
Keep in mind that they will be longer and may not fit in the magazine unless you seat them deeper and of course you will want to do that without compressing the load.
The barrel of course is free floated, which means it makes no contact with the stock at all. This is important for long range accuracy in terms of harmonics. As a round is fired, the barrel (particularly those that are less than a full inch in diameter when chambered in 223) actually vibrates in the manner of a tuning fork. If the barrel is bedded to the stock or contacts the stock in any way, this can throw off consistency between shots.
Going the extra step Mossberg crowned the muzzle with a 1/2 X 28″ thread pattern and probably the coolest and most heavy duty thread protector we have ever seen. The threaded section is a bit on the long side and backs up against the front sight blade. If you do not use a direct thread silencer or use one that covers or compresses over part of the barrel like an OSS can, you may need an adapter of some type.
We experimented with a variety of muzzle brakes and flash hiders built for use on the AR family of rifles and had no issues with these devices fitting properly.
Real Pretty, But Can the Mossberg MVP LR-T Tactical Rifle Shoot?
Most shooters of 223 are content to keep it at less than 500 yards. However, the round is truly capable for further distances with the right rifle, optics and ammunition. We have rung steel at 1000 with our AR Coyote Killer, but that has a 26" ultra-heavy barrel and weighs 3 to 4 times the weight of the Mossberg MVP LR-T Tactical Rifle.
A Bushnell AR-Optics scope in 4-12X was moved over to the rail and with the touch of a button the cheek piece was raised up to match.
We tried the Mossberg MVP LR-T Tactical Rifle at a 12" steel plate at 650 yards. At distances like this with almost any rifle your group size will open up beyond what you can do at 100 or 200 yards. Our first shot sailed over the target and after we cranked down the elevation the second one hit the dirt right in front of it. We came up a few more clicks and rang it for the next 17 out of 20 shots. The dreaded Washoe wind took a few from us, but we were impressed with the shorter and not too thick barrel on the Mossberg MVP LR-T Tactical Rifle, proving that you don't need 5 lbs of barrel for a long range hit with Black Hills 77 grain Sierra Match King 223 ammo and a Mossberg MVP LR-T Tactical Rifle with its 1 in 7" twist.
It may not look like a bull barreled bench gun with a barrel closer to a yard than a foot in length, but within reason, the Mossberg MVP LR-T Tactical Rifle is quite the performer proving that the folks behind the rifle design team at Mossberg really know what they are doing when it comes to building these new bolt guns.
Mossberg MVP LR-T Tactical Rifle Resources:
Mossberg MVP Rifle Owners Manual : http://www.mossberg.com/wp-content/uploads/2015/04/MVP.pdf
Mossberg MVP Rifle Webpage : http://www.mossberg.com/category/series/mvp-series/mvp-lr-long-range/
---
Check out Gun Talk TV's Ryan Gresham & Mossberg's Tom Taylor Video Review of the Mossberg MVP LR Rifle:
---
About Mike Searson
Mike Searson's career as a shooter began as a Marine Rifleman at age 17. He has worked in the firearms industry his entire adult life as a Gunsmith, Ballistician, Consultant, Salesman, Author and was first certified to teach firearms safety in 1989.
Mike has written over 2000 articles for a number of magazines, websites and newsletters including Blade, RECOIL, OFF-GRID, Tactical Officer, SWAT, Tactical World, Gun Digest, Examiner.com and the US Concealed Carry Association as well as AmmoLand Shooting Sports News.
Home page: www.mikesearson.com
FB: www.facebook.com/mike.searson
TWITTER: www.twitter.com/mikesearson