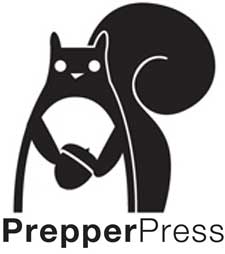 United States -(AmmoLand.com)- Post-apocalyptic fiction and survival nonfiction book publisher Prepper Press announces the release of its most recent book, Rimfire Rifles: A Buyer's and Shooter's Guide.
This book is devoted to a whole series of useful firearms, beginning with the well-known .22 Long Rifle. The venerable "twenty-two" hosts a wide array of interesting loads, including some ultra-quiet choices and fairly nasty high-speed rounds.
Even hotter rimfire calibers include the .22 Winchester Magnum Rimfire, plus three small-bore derivatives: the .17 Mach II, .17 Hornady Rimfire Magnum, and Winchester's high velocity .17 Super Magnum. Careful shopping can provide us with a useful rimfire (or maybe even two) with which to quietly harvest small game or eliminate pests. An economical .22 LR firearm can also serve as a great high-powered rifle trainer if similar function is considered. In a pinch, it might even work for self-defense.
The rimfires can't do everything, but they can do a lot once fully understood. One trait is easy to overlook until you start shooting. They're lots of fun! This book will lead the way from beginning to end.
Amazon Review:
"Once again, the author has written a detailed and accurate expose' of the subject at hand. Anything you ever wanted to know about rimfire rifles from their genesis to present day is included. There are also loads of advice on things you should do and not do when purchasing rifles, accessories and optics. Also very much enjoy the humorous anecdotes."
About the Author, Steve Markwith:
Steve Markwith served as the chief firearms officer for a large state agency, and has been a full-time firearms instructor for more than 25 years. He holds certifications on various weapons and force technologies through recognized sources such as the S&W Academy, FBI, NRA, military and state criminal justice academies, etc. His military and civilian experiences have provided ample opportunities to evaluate everything from firearms and equipment through tactics and training.
Although recently retired, Steve continues to serve as a firearms consultant. He enjoys numerous industry contacts, and is also is a published author. A series of previous sporting articles led to a connection with Prepper Press. He has since authored the Survival Guns series of books. These book relate to survival-based firearms, equipment, and training.
See these other titles by Steve Markwith:
About Prepper Press:
We are an independent publishing house specializing in dystopian fiction and survival nonfiction, books and information that entertain and serve preppers, those preparing for events that could disrupt life as we know it and threaten survival. Uncertain times in a society heavily reliant on modern technology creates a need for every person to take a few steps toward independence and self-reliance. Should a major societal event happen, whether terrorist attack, plague or natural disaster, average Americans will need the knowledge and skills to help them survive if order fails and chaos ensues. Prepper Press publishes books and information that can help people survive in such situations. All of our authors are based in the United States. All of our books are published and printed in the United States.
For more information, visit: www.PrepperPress.com.