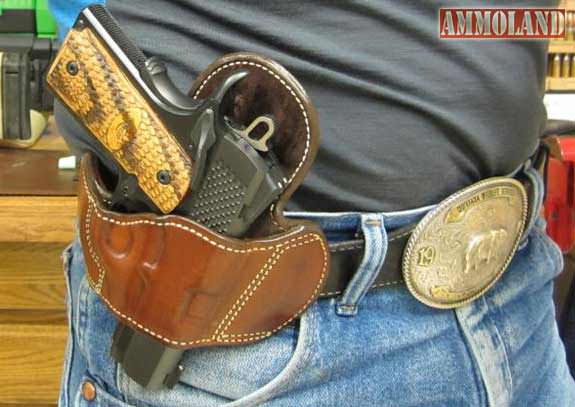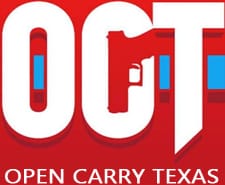 Temple, TX – -(Ammoland.com)- Since 2013, Open Carry Texas and Texas Carry has worked hard towards our collective goal of securing more gun rights for Texans.
Our first goal to make Texas an open carry state was accomplished this session with the passage of HB 910.
As of January 1, 2016, law abiding Texans who possess a current Concealed Handgun License (CHL) or the new License To Carry (LTC) will be able to carry their modern handgun openly or concealed as they see fit.
There is no need for an additional license and those with a current CHL will not need to obtain another license until theirs expires.
To celebrate the removal of the provision that requires handguns to be concealed in public, Open Carry Texas and Texas Carry will be holding an "Official Uncovering of the Handgun Rally" at the state Capitol at noon on New Year's Day. The purpose of this rally is to draw awareness to the new law and demonstrate to the public that the only difference between an openly carried firearm and a concealed firearm is a thin piece of fabric. We will then conduct a short walk down Congress Ave.
The rally is expected to take no more than an hour and will feature District 24 Senate Candidate Brent Mayes as our speaker as well as OCT President CJ Grisham and TC Executive Director Terry Holcomb, Sr. Media are invited and members will available for interviews before and after the event.
We are extremely grateful for all the hard work and dedication that our members have put into making this event a reality and look forward to working with the 85th Legislature to bring Constitutional Carry to Texas as well.
About Open Carry Texas: Our purpose is to 1) educate all Texans about their right to openly carry rifles and shotguns in a safe manner; 2) to condition Texans to feel safe around law- abiding citizens that choose to carry them; 3) encourage our elected officials to pass less restrictive open carry legislation for all firearms, especially pistols; and (4) foster a cooperative relationship with local law enforcement in the furtherance of these goals with an eye towards preventing negative encounters.
About Texas Carry: Texas Carry was created by a group of activists to organize action among members, effectively lobby the legislature, and demand compliance of state and federal laws. Texas Carry exists only to work for its members and the millions of Texas gun owners. We have no obligation to any politician or national organization that may compromise our goals.