By Mike Searson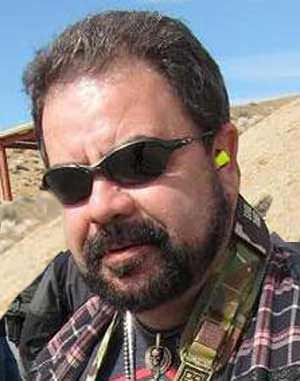 USA -(Ammoland.com)- As a shooter and collector, the author rotates his CCW pistol every once in a while.
Sometimes it's an HKP7M8, other days a Glock 19, in bear country a 3" S&W Model 657, but for the most part it has been a Steyr S9-A1.
A compact pistol based on the Steyr M9 series. In a rare move (we typically go with compact versions of handguns after enjoying their full size counterparts for a while) we reached out and ordered the full size version some three years after we picked up the compact.
Steyr was kind enough to send us a full sized Steyr M9-A1 Pistol for some testing along with a factory threaded barrel.
For those not familiar with the design, it is a polymer framed, striker fired pistol with an accessory rail. (Right, just like every other one out there!). However, due to the design genius of Wilhelm Bubits, these pistols have a lot more going for them than you might think.
Steyr M9-A1 Pistol : The Good
We used to think the S&W M&P pistol fit our hands perfectly until we picked up a Steyr for the first time. The rear of the grip allows for a high handhold and the pistol has a very low bore axis. It simply feels great in the hand with no need for interchangeable back straps, stippling or any other so called "improvement".
As we always say, the heart of any firearm is its trigger and the Steyr M9-A1 Pistol breaks like glass for a smooth consistent squeeze shot after shot. Bubits designed the trigger on the Glock 20 years ago, so he nailed this one from the jump.
Specs: Steyr M9-A1 Pistol
Caliber 9mm
Magazine 17
Trigger Reset Action (double action)
Grip Frame Synthetic Grip
Dimensions 6.9″x5.35″x1.2″
Barrel Length 4″
Weight 1.7 lbs
The sights are the trapezoidal type. That is, a triangle front sight flanked by two chevrons in the rear, like a gun sight on a tank or fighter plane, or coincidentally our Trijicon ACOG, which is why we prefer this sight system.
All of these attributes combine to make for an extremely accurate pistol. So much so that one would think the Steyr to be perfect…
Steyr M9-A1 Pistol : The Bad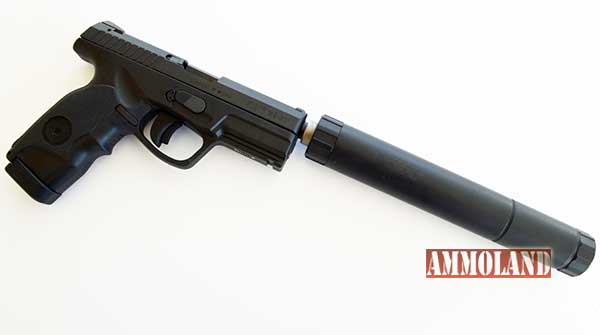 Trouble came into paradise when we mounted a silencer to the threaded barrel. The slide did not want to come all the way forward into battery after ejecting a fired case. We experienced this with 158 grain subsonic loads, only. After switching back to 147 grain subs, the pistol functioned flawlessly on an AAC TiRant 45M silencer.
Try as we could, we could not get it to run with the AAC Illusion can consistently. It performed well with 115 grain supersonic loads which sort of defeat the purpose of running a can, but the 147s still threw a hiccup every now and then.
This could be due to
Needing an improved recoil spring.
A roll pin in the slide which seems to hang up the striker when the slide is moving slower due to the weight of the can.
The slight rearward movement of the barrel under recoil.
Or a combination of two or more of these three.
It did run well with the AAC TiRant 45M, our guess is the 45 can with bigger volume may be boosting the recoil more to not slow down the slide as much as the Illusion.
As Steyr is not in the "Big Three" of handgun designs popular in the US, parts and accessories can be hard to find. This is improving and more holster manufacturers come on board every year, but it's the small parts that seem to be in short supply (like various weights of recoil springs). Steyr has been getting better at this, but the lion's share of their resources for these pistols are devoted to military contracts.
Steyr M9-A1 Pistol : The Reality
Silencer issues aside, we find the Steyr M9-A1 Pistol to be a superior handgun in terms of ergonomics, accuracy and innovation. Without the can, ours runs flawlessly. Steyr recently redesigned their website and are offering the M9-A1 for $499 as of this writing.
As far as parts go, we were assured that if you need a new extractor or other small part, they should be in inventory.
We liked the Steyr M9-A1 Pistol so much that we are going to do a little more research and experimentation to make it an ideal suppressor host. It is really the only flaw in this gem of a handgun.
About Mike Searson
Mike Searson's career as a shooter began as a Marine Rifleman at age 17. He has worked in the firearms industry his entire adult life as a Gunsmith, Ballistician, Consultant, Salesman, Author and was first certified to teach firearms safety in 1989.
Mike has written over 2000 articles for a number of magazines, websites and newsletters including Blade, RECOIL, OFF-GRID, Tactical Officer, SWAT, Tactical World, Gun Digest, Examiner.com and the US Concealed Carry Association as well as AmmoLand Shooting Sports News.
Home page: www.mikesearson.com
FB: www.facebook.com/mike.searson
TWITTER: www.twitter.com/mikesearson