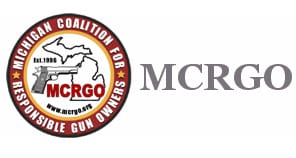 Lansing, MI -(AmmoLand.com)- MCRGO's mission targets three key areas: legislation, litigation, and education.
The organization's major accomplishments over the past twenty years have been heavy on legislation and litigation with the achievement of shall-issue concealed carry, the Castle Doctrine, Stand Your Ground, CPL reform, preemption and its enforcement through landmark cases such as MCRGO vs. Ferndale.
The education component of the organization, apart from partnering with the NRA on the Eddie Eagle program and offering pistol safety training to legislators, has been primarily focused on member & public outreach on Michigan gun laws and issues through this newsletter, our web site, the Monday E'News, and social media, particularly Facebook.
MCRGO will soon significantly expand its educational mission by becoming a full training organization, offering a superior program at a competitive cost to instructors and their students. In doing so, we also hope to draw more concealed pistol license applicants to the fight to reform Michigan gun laws and defend their self defense rights.
Existing programs have come under fire in recent years for their lack of applicability to MCL 28.425j, the section of Michigan law that deals with training. Some instructors have been offering courses under the name of training organizations without appropriately teaching the course they are certified in. This has been a particular problem with the legal portion of the course, with people who are unlicensed attorneys offering legal advice that is often incorrect. Range times in some classes have been inadequate or even non-existent. We have had reports of classes lasting for less than two hours!
Though MCRGO has not offered general instruction in the past, it has long been accredited to do so by the Michigan State Police. Our board has struggled with this issue, particularly over the design and implementation of a training program, legal liability, and insurance. Last year, the MCRGO Board of Directors created a Education Subcommittee and began the process of developing a better training program than those currently being offered. We have made substantial progress and will be ready to move toward the implementation and instructor certification phase this spring.
The new MCRGO program will be designed around Michigan law focusing on carry outside the home. The legal portion will be taught in video modules by Michigan attorneys. The range portion will have exercises that go beyond the minimum required by Michigan law. This will be a one day course.
Unlike some existing programs that have high fees, MCRGO's program will certify instructors for $200 with a $20 annual renewal that will include MCRGO annual membership. The per student cost will initially be $15 which will also include a one year membership to MCRGO. We hope to lower the student fee to $10 once the program is up and running and initial expenses are paid. Instructors will set their own course fees.
Currently, most pistol safety training students leave their course with a certificate but no continued contact from their training organization or instructor. As a result, only half go on to obtain their CPL. Few become active in the grassroots political activity. By providing a heavily discounted membership to students in their first year, we will grow both MCRGO's membership and its political impact.
Please contact the MCRGO Education Subcommittee Chair, Rich Martin, with any questions you may have about the new program. He can be reached by e-mail at: [email protected]
Brady Schickinger, Executive Director
About MCRGO:
The Michigan Coalition for Responsible Gun Owners is a non-profit, non-partisan organization. Formed from just eight people in 1996, we now have thousands of members and numerous affiliated clubs across the state. We're growing larger and more effective every day.
Our mission statement is: "Promoting safe use and ownership of firearms through education, litigation, and legislation." For more information, visit: www.mcrgo.org.