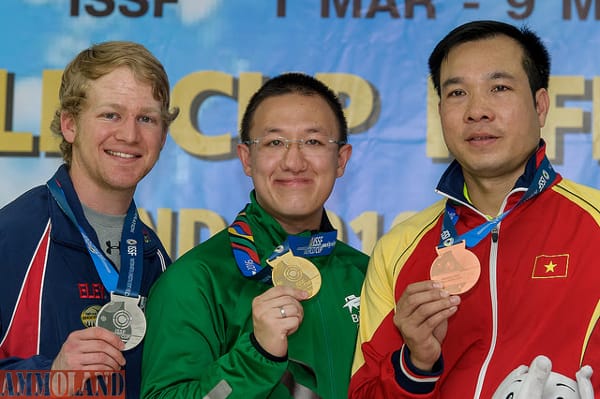 Colorado Springs, CO -(AmmoLand.com)- Will Brown came through in a big way for the USA Shooting Team Saturday during the first International Shooting Sport Federation World Cup stop of the season in Bangkok, Thailand.
Competing in 10m Air Pistol, Brown delivered a silver medal on an exciting Finals match that came down to the final shot. Brown's last World Cup medal came back in 2013 when he made his emergence as one of world's top air pistol shooters, winning gold at World Cup USA. He'd battle for gold again today against 2015 Pan American Games champion Felipe Almeida Wu of Brazil.
Brown (Twin Falls, Idaho) entered the Final after finishing sixth in qualification with a score of 580/600. He held a .3-point advantage with two shots remaining in the Final, but Wu would eliminate that shooting a 10.5 compared to Brown's 10.2. With both competitors tied before the last shot and gold on the line, Wu zeroed in and fired a winning 10.2 after Brown could only muster a 9.7. Hoang Xuan Vinh of Vietnam took bronze.
Still, the medal is a sign of things to come hopefully for Brown as he looks to solidify a first Olympic nomination later this year. He nearly got into the Finals in his other event of Free Pistol Thursday, finishing 12th, just one point away from a potential Finals spot.
Nick Mowrer (Army WCAP/Butte, Montana) was 16th with a 574 while Jay Shi (Phoenix, Arizona) finished 20th with a 572.
Brown's performance was the headliner on an otherwise pretty good day for Team USA. Michael McPhail (U.S. Army Marksmanship Unit/Darlington, Wisconsin) and Matt Emmons (Browns Mills, New Jersey) both got into the Finals in Prone Rifle, finishing fourth and seventh respectively. Emmons was the second best qualifier on the day with a score of 625.0 but didn't do enough in the Final to earn the medal. Denmark's Torben Grimmel, the 2000 Olympic silver medalist, earned the victory.
The World Cup match began with Sarah Scherer (Woburn, Massachusetts) marking her return to international competition with a stirring performance in Air Rifle that included making the Finals and finishing eighth. The 2012 Olympian is back competing following a 22-month World Cup absence that included two back surgeries and almost forced her out of the sport. Learn more about her comeback from injury here: https://go.teamusa.org/1LWLYoy
In Men's Air Rifle Thursday, Emmons led an American charge that featured three USA Shooting Team athletes into top-21 final standings. Emmons was close to a Finals appearance finishing 11th with a score of 625.4. Murray State's Ivan Roe (Manhattan, Montana) was 16thwith a 622.9 while North Carolina State's Lucas Kozeniesky (Camp Lejeune, North Carolina) was 21st with a 622.3.
The ISSF Rifle and Pistol World Cup in Bangkok, Thailand, continues Sunday in Bangkok as Scherer competes in Three-Position Rifle along with Emily Stith (Colorado Springs, Colorado), Emily Holsopple (Wilcox, Pennsylvania), and Sarah Beard (Danville, Indiana). First shots will be fired starting at 10:15 pm ET Saturday.
Check out www.issf-sports.org for complete scores and live Finals broadcast.
About ELEY:
ELEY is a Proud Sponsor of the USA Shooting Rifle and Pistol Teams: ELEY Limited, manufacturer of the world's most consistently accurate rimfire ammunition, has been the Official Sponsor and Official Supplier of .22 rimfire ammunition of the USA Shooting rifle and pistol teams since 2000.
For more information on ELEY and their products, please visit www.eley.co.uk.
About USA Shooting:
USA Shooting, a 501c3 non-profit corporation, was chartered by the United States Olympic Committee as the National Governing Body for the sport of shooting in April 1995. USA Shooting's mission is to prepare American athletes to win Olympic medals, promote the shooting sports throughout the U.S. and govern the conduct of international shooting in the country.
Check us out on the web at usashooting.org and on Twitter at twitter.com/USAShooting.