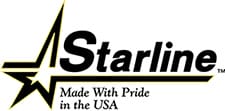 SEDALIA, MO –  -(Ammoland.com)- Starline has recently added .32 S&W to their expanding line of product offerings. With this release, Starline now offers over 80 different handgun brass calibers at factory direct prices.
The .32 S&W was originally designed as a black powder cartridge for use in small, inexpensive pocket revolvers. Starline's new .32 S&W brass has been designed for safe use with both smokeless and black powder, in revolvers chambered for .32 S&W Long, .32 H&R Magnum and .327 Federal Magnum.
To view the .32 S&W and other calibers online and to order Factory Direct, visit www.starlinebrass.com/brass-cases/32–SandW-SHORT/.
Starline has added the .32 S&W as a part of their ongoing effort to meet the growing demand for their superior quality reloading brass. Starline's recent plant expansion has provided the space to continue to add new cartridges to their product line.
Starline is currently running at a 95% fill rate. This means 95% of the cartridge cases they produce are in stock and can be packaged and shipped to your door immediately upon ordering.
Starline is a family owned business that prides itself on producing the highest quality brass cases available. For 40 years, Starline's unique manufacturing process and commitment to their team of employees has distinguished Starline from the competition.