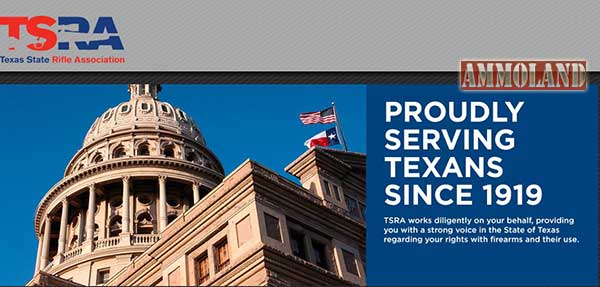 Austin, TX -(AmmoLand.com)- The Texas State Rifle Association (TSRA) announces that State Rep. Larry Phillips (R-Sherman) has been named as this year's recipient of the Doc Brown Legislator of the Year Award.
Rep. Phillips received the award during the 2016 TSRA Annual Meeting & Foundation Banquet, held recently at the Austin Marriott North Hotel in Round Rock, Texas.
TSRA honored Rep. Phillips for successfully spearheading the passage of licensed open carry legislation, a major change after two decades of licensees being required to carry concealed at all times. He has served Texas House District 62 since 2003, and he currently serves as chairman of the House committee on Public Safety and Homeland Security.
"We are very pleased to honor Rep. Phillips' with the Doc Brown Legislator of the Year Award," says Doug DuBois Jr., executive director for the Texas State Rifle Association. "Rep. Phillips has demonstrated an unwavering dedication to Second Amendment rights, and his 2015 legislative success and leadership for open carry has helped change gun ownership for all Texans."
TSRA's Doc Brown Legislator of the Year Award was named in honor of Dr. James T. Brown, a lobbyist which served TSRA from 1980 until his retirement in 2003. Brown was a life member of the TSRA and NRA, and he passionately supported the movement to pass concealed handgun legislation. Brown played a significant role in promoting key legislation in 1985 (SB1187 and HB1656) which prohibited cities and governmental entities from adopting firearm regulations that were more restrictive than state law, and protected hunters and game animals from harassment and disruption during hunting season.
The 2016 TSRA Annual Meeting also welcomed Texas Lt. Gov Dan Patrick, who delivered the keynote speech. The meeting also provided attendees with informative seminars on such topics as Three-Gun 101, Refuse To Be A Victim and Texas Law Shield, along with a fund-raising banquet that featured live and silent fund-raising auctions to promote youth shooting sports.
This year's event sponsors included AEPS, Inc. Texas Law Shield, Self-Defense Fund, and the Brenzovich Firearms & Training Center.
About the Texas State Rifle Association:
Founded in 1919, the Texas State Rifle Association is the largest firearms and shooting sports organization in Texas with nearly 40,000 members. TSRA is also the largest, award-winning state affiliate of the National Rifle Association and is sanctioned by the Civilian Marksmanship Program. As a part of its public education efforts, the association produces a full-color bimonthly publication, TSRA Sportsman, which updates members on current news, hunter education programs, shooting sports competitions, and important issues effecting their Second Amendment rights. The TSRA also hosts an annual meeting every February that features exciting fund-raising auctions, informative speakers, exhibitors, and other events.
For membership or other information about the Texas State Rifle Association, visit www.TSRA.com or call 512.615.4200.