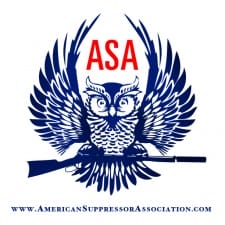 SEARSBORO, IA – On Saturday, April 16th 2016, the American Suppressor Association (ASA), in partnership with Brownells, will host the Iowa Suppressor Rally, a public suppressor shoot at the Big Springs Shooting Complex near Searsboro, IA.
Located roughly one hour east of Des Moines, the event will celebrate enactment of House File 2279, which legalized firearm suppressors in Iowa on March 31st.
"After three years of hard work alongside the Iowa Firearms Coalition and the National Rifle Association, Iowans will finally be able to use suppressors to protect their hearing while enjoying the shooting sports," said Knox Williams, President and Executive Director of the ASA.
"This rally is an opportunity for us to show the people of Iowa why we have all fought so hard to legalize suppressors in The Hawkeye State. Hearing is believing, which is why we want you to join us as we celebrate the new law and recognize those who helped this legislation become reality."
The rally is free and open to the public, and will serve as an opportunity for Iowans to see, hear, and shoot firearms equipped with suppressors from a wide array of manufacturers, including:
Advanced Armament Corporation
Dakota Silencer
Gemtech
Sig Sauer
Silencerco
Yankee Hill Machine
All guns and ammo will be provided at the rally; attendees are asked to leave personal firearms at home or in their vehicles.
"Iowans can now enjoy the same freedom as those in many other states and countries," said Brownells CEO Pete Brownell. "I suffer from hearing loss myself. Being able to dampen the noise associated with firearms will help protect the hearing of all Iowans who shoot, including future generations of Iowa gun owners. We hope anyone wanting to learn more about suppressors can make it to the rally."
Representatives from the Iowa Firearms Coalition, National Rifle Association and American Suppressor Association will be on hand at the rally.
Big Springs Shooting Complex is located at 4945 Highway 146, just east of Searsboro, Iowa.
ABOUT THE AMERICAN SUPPRESSOR ASSOCIATION 
The American Suppressor Association (ASA) is the unified voice of the suppressor industry. Our mission is to unite and advocate for the common interests of suppressor manufacturers, distribu­tors, dealers, and consumers. To accomplish our mission, our principal initiatives focus on state lobbying, federal lobbying, public education, and industry outreach.
For more information on how you can join the ASA, and help protect and expand your right to own and use suppressors, please visit www.AmericanSuppressorAssociation.com.
ABOUT BROWNELLS
Serious about Firearms Since 1939™, Brownells is the world's leading source for gun parts and accessories, ammunition, gunsmithing tools and survival gear. With a large selection of both common and hard-to-find items, and an extensive collection of videos, articles, and gun schematics, Brownells is the expert for everything shooting-related. Committed to maintaining our great traditions, Brownells has more, does more and knows more – and guarantees it all, Forever. For more information or to place an order, call 800-741-0015 or visit Brownells.com. Stay up-to-date with Brownells on YouTube, Facebook, Twitter and Instagram.