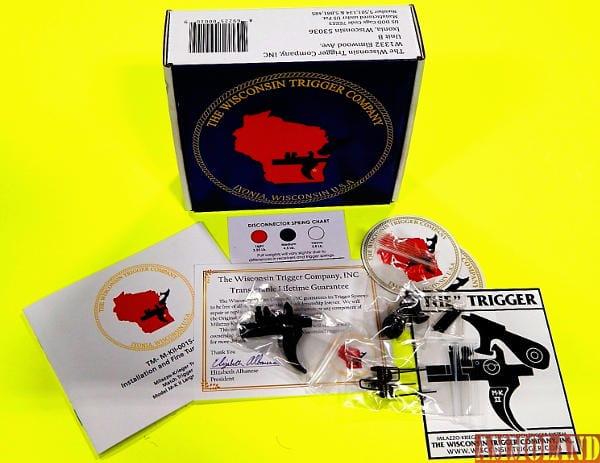 Ixonia, WI -(AmmoLand.com)- The M-K II is the original patented two stage match trigger system for the AR platform.
It has been used by the USAMU to set multiple longstanding records and is offered in both small and large pin models. After many years out of production, The Wisconsin Trigger Company (TWTC) is proudly producing these trigger systems using the original tooling and fixtures. With the reintroduction of the M-K II, TWTC is committed to modernizing the design while retaining the same fundamental mechanics that inspired the aftermarket AR two stage trigger system industry.
The newest model, the M-K IIA2 (GEN 2) Tactical Trigger, combines the world class match trigger release of the original M-K II with a high speed tactical trigger. The original trigger and hammer casting molds are used without altering any of the original hook geometry to ensure the same smooth pull and crisp release of the original M-K II. The disconnector has been redesigned to give the the M-K IIA2 a fast and responsive hammer reset that will aid in high speed follow up shots. Other features include: Factory set overtravel, adjustable second stage release, and a quick installation and tuning.
The key to the unequaled smoothness and release is precision. Extremely tight tolerances are held and only the best of the best are used. Castings come from the aerospace division of the foundry that cast the original M-K II. The trigger housings are machined on machines that produce guided missile parts. Hammers are ground on surface grinders that can hold tolerances within microns. Pins are made using the newest Swiss style machining on the latest state of the art machines. Every component of the trigger system is inspected and hand assembled. Then the assembled unit is tested on specially made jigs for smoothness and safety engagement.
Once the parts come together in the shop, each trigger system has been inspected, tested, and assembled using over thirty precision made fixtures.
Read the latest reviews:
About The Wisconsin Trigger Company, Inc.:
Our Wisconsin business manufactures the M-K II Trigger. We seek to produce the finest triggers available for AR-15 and M16 family of firearms. We are a family owned and operated business, with customer service that might be expected from the corner grocer. Our customers include AR-15 enthusiasts and target shooters, people who demand superior quality triggers personalized to their own shooting styles.
For more information visit: www.wisconsintrigger.com.