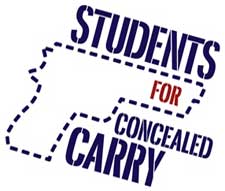 Austin, TX -(AmmoLand.com)- The board of regents of the University of Texas System would do well to heed the actions of Texas Tech University, which—on the advice of legal counsel—overruled a proposed policy that would have allowed faculty, staff, and graduate students to designate their offices as "gun-free" zones.
Both Texas Tech's campus carry task force and UT-Austin's campus carry policy working group recommended that occupants be allowed to prohibit licensed concealed carry in privately held offices. However, whereas UT-Austin President Gregory Fenves chose to adopt the proposed policy, officials at Texas Tech recognized that such a policy would violate the state's campus carry law.
Reporting for KAMC News in Lubbock, reporter Alyssa Goard writes:
[Interim Texas Tech] President [John] Opperman explained that after [TTU's campus carry task force] released preliminary recommendations in December, Texas Attorney General Ken Paxton issued several opinions arguing that it would be illegal to ban guns from classrooms, faculty offices, and dorms.
"Offices can't be gun free—in the AG opinion was part of the factor there because the same rationale the attorney general used for classrooms applies to offices as well, so offices cannot be excluded," Opperman said.
While Paxton's opinions are not legally binding, Opperman said that TTU's general counsel advised the university to structure their policies keeping Paxton's opinions in mind. TTU's general counsel believed that Paxton's arguments would hold up in a court of law. The university has been seeking legal advice, bracing for the inevitable litigation that will spark related to the campus carry law.
As Students for Concealed Carry (SCC) has explained in multiple press releases and in invited testimony before the Texas Senate Committee on State Affairs, allowing faculty, staff, and graduate students to arbitrarily create a patchwork of criminally enforceable "gun-free" zones would violate both the letter and intent of Texas Senate Bill 11.
The law says that any campus carry policies approved by a university president must be "reasonable" and cannot "have the effect of generally prohibiting license holders from carrying concealed handguns on the campus."
Allowing occupants of private offices to designate those offices as criminally enforceable "gun-free" zones would have the net effect of making it impossible for many if not most faculty, staff, and graduate students—the members of the university community most likely to hold a license to carry a concealed handgun—to lawfully carry concealed handguns on campus, because their positions often require them to enter one or more private offices on a daily basis. Prohibiting campus carry by the segment of the population most likely to take advantage of the law cannot be viewed as anything less than a general prohibition.
Furthermore, SB 11 requires universities to "widely distribute the rules, regulations, or other provisions" created by the university president—a requirement that will be difficult, nay impossible, to fulfill if any occupant of any private office can declare that office "gun-free" at any time.
Requiring license holders to explain that they cannot lawfully enter a specific office would force them to self-identify to colleagues, employers, and/or instructors, which is in clear conflict with the Texas Legislature's efforts to protect the identities of license holders. Such a policy would also make university employees the only state employees authorized to arbitrarily criminalize licensed concealed carry in their workspace. Given this policy's clear conflict with legislative precedent, it cannot be viewed as "reasonable" under any standard definition of that word.
UT-Austin's gun-free-offices policy is one of two university-approved campus carry policies—along with UT-Austin's empty-chamber policy—likely to face legal challenges this fall.
It is a clear violation of both the letter and intent of Texas' new campus carry law, and Students for Concealed Carry will not rest until the policy is struck down.
About Students for Concealed Carry:
Students for Concealed Carry (SCC) is a national, non-partisan, grassroots organization comprising college students, faculty, staff, and concerned citizens who believe that holders of state-issued concealed handgun licenses should be allowed the same measure of personal protection on college campuses that current laws afford them virtually everywhere else. SCC is not affiliated with the NRA or any other organization. For more information on the debate over campus carry in Texas, visit WhyCampusCarry.com.
For more information on SCC, visit ConcealedCampus.org or Facebook.com/ConcealedCampus.